The CNN correspondent Clarissa Ward is a prominent media personality who has been delivering coverage from some of the most dangerous conflicted places on Earth. Recognized with multiple Emmy awards, the journalist has maintained a resounding personal life. She is a mother to two kids from her five years of marriage with Philipp Von Bernstorf. 
A Look Into Clarissa Ward's Married Life
The love story of the journalist and her spouse Philipp Von Bernstorf began in 2007 when they first encountered each other at a dinner party. 
Strangely, Ward was fascinated by him from the get-go when Philipp said to her, "I think war correspondents are egomaniacs."
Taking their relationship a notch further, Ward and Philipp tied the knot in London in November 2016. The pair had a rather small wedding ceremony held at Chelsea Old Town with only forty-six guests. And the ceremony was followed with lunch afterward, in their home at Notting Hill. 
"I was weeping so much, but in a beautiful way. I mean not that I looked beautiful but that it was a happy kind of weeping," Ward shared about her wedding day. 
The pair's beautiful relationship shines through Ward's social handle, where she frequently posts about her husband, from wishing him on his birthday to making casual uploads. 
Expanding the family of two, Ward and Philipp welcomed two children. Their firstborn is Ezra Albrecht Nikolas Nour, born in 2018, while their second child is Caspar Hugo Augustus Idris, born in 2020.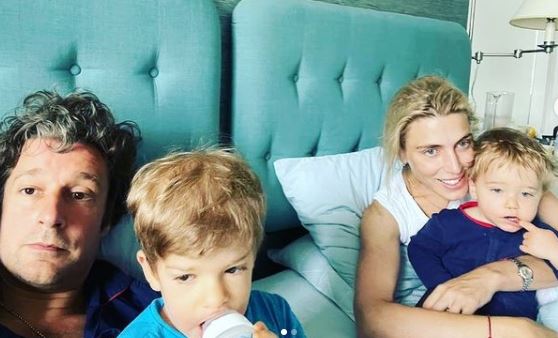 Selfie picture of Clarissa Ward with her husband, Philipp, and two kids, looking cozy bundled up in bed. (Source: Instagram)
Shares Her Motherhood Struggles 
Handling both personal and professional life at the same time is not a piece of cake when you have a three-year-old baby to look after on the one hand and a toddler on the other.
On top of that, when almost every work has shifted home in this time of pandemic lockdown, juggling between being a parent and an employee is a challenge of its own. 
Speaking the truth of being a working mom with kids to attain to, the journalist made an Instagram post on December 4, 2020, where she wrote, 
Back at work for three days now and I'm not going to pretend it's a walk in the park. And I am fortunate enough to have incredible support.
Indeed she is fortunate to have a supportive husband to her rescue, but still, she says, there is some level of difficulty in handling both sides at a time. Through the post, she highlighted all the working mother's efforts during the pandemic and wrote, 
The purpose of this post is not to say poor me (I'm just fine) but rather to highlight the incredible resilience of all the mothers out there in this challenging moment, most of whom have minimal support and continue to perform this juggling act every day.  
Career and Net Worth
As a result of her resilience and dedication, the journalist has established a successful career in journalism. The chief correspondent of CNN has garnered seven Emmy awards throughout the years, along with a few other prestigious awards.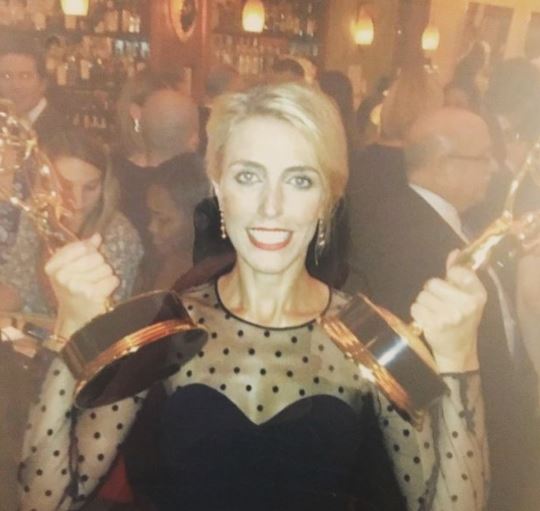 Clarissa Ward flaunting her Emmy wins in 2013. (Source: Instagram)
Completing her education at Yale University, the American television journalist began her professional journey in 2003. Further, she has explored her expertise working for some major broadcasting networks such as Fox News, ABC, CBS News, and CNN, covering numerous major stories from war zones in Syria, Afghanistan, etc. 
Moreover, she is also an author of her book, On All Fronts, published in 2020, which illustrates her journalism experiences from covering stories worldwide. 
With such a dominance in the broadcasting media, Ward probably earns an annual salary of over 100 thousand dollars as a chief correspondent. And has assumably garnished a hefty net worth in millions of dollars.