Cheri Jacobus is a political strategist, writer, and frequent TV pundit on CNN, MSNBC, FOX News and CBS.
She had to let go of her columnist career in USA Today, an internationally distributed American daily, in open allegations to have insulted Republican consultant and DonaldTrump ally Michael Caputo's daughter over twitter.
The remarks she made during the series of back and forths with Michael swiftly turned personal.
Soon, the tweets became the cause of several backlashes, mostly in conservative media demanding that the USA Today take action against its employee.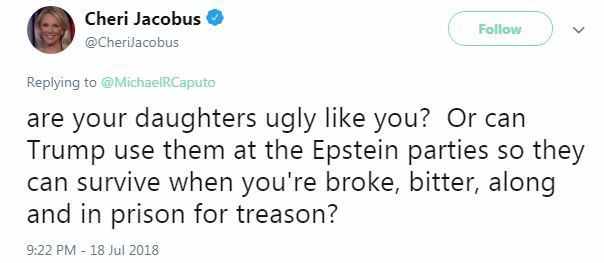 One of the tweets in the series of back and forths between Cheri Jacobus and Michael Caputo, which caused Cheri to lose her position as a columnist at the USA Today (Photo: Cheri Jacobus' Twitter)
However, many predict that Cheri's downfall is well connected to going public early on with her concerns about the possible Trump presidency and her being a #NeverTrump Republican.
Interesting Read: Maureen Dowd Married, Husband, Brother, Personal Life, Trump, Weed
Cheri herself commented over a New York Times's sympathetic piece documenting that she has been ruined and trashed on Twitter.
Cheri Jacobus' Wiki / Bio: Parents, Father
Cheri, who loves to wish her collegues and friends on their special days, has not been open about her own birthday. She is also yet to unwrap her family descent and ethnicity.
However, it is known that her father, who is closer to his nineties was in the Navy during the Korean war. On the other hand, her mother, who is now in her mid-eighties got her Master's completed when she was at the age of 52.
With her degrees, Cheri's mother did a fantastic job teaching special education to the kids. Her parents, who lost their first child to some inexplicable reason, now live with the memories of 60 plus years of their married life.
Meanwhile, their daughter, a native of Peoria, Illinois, completed her education from West Virginia University with a Bachelor of Science degree in Journalism.
Married To Husband?
Now and then, Cheri often talks about her exes in her tweets but only to prove her points in some other matters, mostly politics. 
The very tweets are never focused on her love life. She is all about her political opinions and intellects on her social media accounts. 
Therefore, her personal life remains a far-fetched matter. It is only fair that there is rising speculation to her married life and dating life, as per the controversies she has surrounded herself in as a matter of fact. 
Continue Reading: Todd Starnes Fox News, Bio, Married, Wife, Gay, Family, Twitter
Even so, her fans and followers have so far done a fantastic job showing patience and respecting her privacy. 
So, for now, the answers to her having a husband or a boyfriend remains mysteries to all of us. 
Net Worth
Cheri, who stands to some unrevealed height, is so much more than the riot caused over social media.
She has been an adjunct professor at the George Washington University's graduate school of Political Management since 2007. She even founded a public affairs and communications firm and named it Capitol Strategies PR and public affairs in 1998.
The former The Hill newspaper columnist, having worked for several media outlets, never found it essential to disclose her net worth or her salary.
However, it must have, to some point, hurt her finances for losing a $4 million defamation lawsuit against Donald Trump in December 2017.