Superbob star, Brett Goldstein is best known for his role as the collaborator of Scroobius Pip. He appeared in a variety of television sitcoms, including Derek, Uncle, Drifters, and the Emmy award-winning Hoff The Record. Continue reading the article to know more about Brett Goldstein's bio, age, wife, and his career as an actor.
Brett Goldstein Wife, Married
Brett Goldstein does not like to spill the beans of his private life. He is neither married nor dating anyone right now. However, Brett has talked about dating once or twice on his stand-ups. He joked about his ex-girlfriend's augmented breasts in Edinburgh Fringe Festival when he was just a teenager. Some of the audience criticized Brett for his immaturity, but the others just enjoyed his juvenile humor. 
Even though Brett does not talk about the women he has dated, he continually mentions his classmate, Jon Drever in his tweets. Jon Drever is the director of comedy Superbob, who has worked with Brett on several occasions. Since they have worked together closely, Brett often calls Jon his 'work wife' on his tweets and talks about him very often.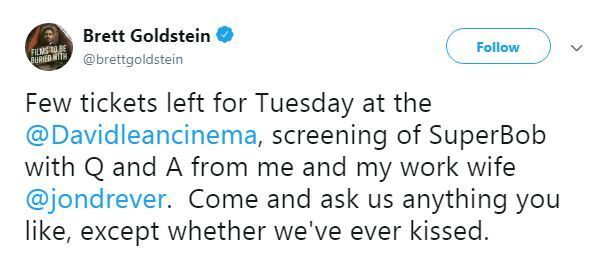 Brett Goldstein calls Jon Drever his work wife on 8 January 2019 (Photo: Brett Goldstein's Twitter)
Adding to the confusion, Brett Goldstein has mentioned stand-up comedian Jen Brister, as his wife multiple times on Twitter. The tweets gained a huge spotlight as the public speculated that Jen and Brett were actually husband and wife.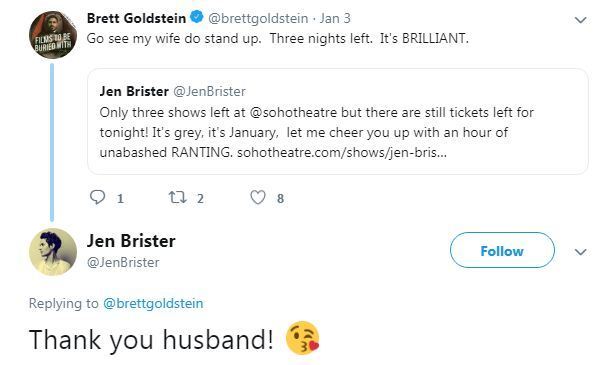 Brett Goldstein calls Jen Brister his wife on 3 January 2019 (Photo: Brett Goldstein's Twitter)
The rumors about the romantic association of Brett and Jen died soon as Jen was in fact, a lesbian. Furthermore, she is living happily with her partner Chloe Martin and their two children, so it can be concluded that she is not associated with Brett Goldstein and their relationship is just platonic.
For now, Brett Goldstein is relishing his singlehood. If he decides to get married, there's no doubt that he will introduce his wife to the fans.
His Bio, Age & Wiki
Brett Goldstein was born on 17 July 1980 as per his wiki. His bio reveals that his father owned a Spanish strip club. He completed his schooling in Sutton, Surrey and then studied Film Studies at Warwick University.
At twenty-two years of age, Brett went to study acting at the American Academy Of Dramatic Arts.
Brett Goldstein's Career As Actor
Brett began his career as a comedy actor when he realized that comedy was his cup of tea. He started his solo stand-ups in 2006 with his show, Brett Goldstein Grew Up in a Strip Club. Some of the award-winning writer's favorite stand-ups include Brett Goldstein Contains Scenes Of An Adult Nature, Brett Goldstein: Burning Man, and Brett Goldstein: What Is Love Baby Don't Hurt Me.
Brett also gave multiple appearances on comedy shows. He also starred in Superbob, a romantic comedy, which was directed by his classmate, Jon Drever. Brett was soon awarded the 2016 BIFA for Best Supporting Actor for his role as Brendon in the film, Adult Life Skills.
At the age of 35, Brett also writes plays. He used to write and submit his plays to The Edinburgh Fringe Festival. He also wrote The Catherine Tate Live Show with English comedian Catherine Tate.