American reporter Blake Burman is known to have been serving the FOX Business Network (FBN) as a Washington correspondent since 2015. He previously worked for the TV channels like KAUZ-TV and WSVN-TV. 
While working as a journalist, Blake balances his hectic schedule of work and his married life. He is in a marital relationship with a gorgeous lady with whom he shares his fatherhood. 
Wife's 'The Coolest Person On Earth,' New Member Adds Family Bliss 
Blake is in a wedlock with a lady named Shanan Flaxman, who happens to be the Marketing and Operations Manager of  LCG Interactive since the spring of 2013.
In her professional bio, published in 2014, Shahan quoted herself as the "coolest woman on earth," and revealed that she majored in Fashion Merchandising via Florida State University.
Though it is not known how Blake met Shahan, it came into the limelight that grew up in the same place; Miami. So, are they childhood lovers?
Well, However, may their meeting have occurred,  the duo exchanged the wedding vows on 13 December 2013 in Miami Beach, FL. They spent quality time together and even attended various events together.
The couple was spotted spending jolly times at the 58th Annual Vizcaya Ball on 25 November 2015.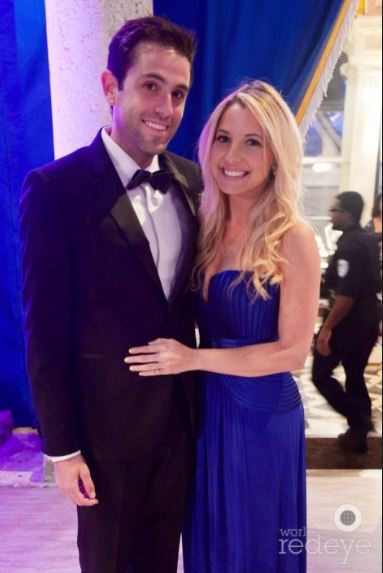 Blake Burman with his beautiful wife Shanan Flaxman at the 58th Annual Vizcaya Ball on 25 November 2015 (Photo Credit: World Red Eye)
After six years of marriage, Blake with his partner welcomed their first child, a son in February 2016. Blake timely gushes about his son in his social media accounts while keeping his name and picture away from the public. 
One such instance was on 4 November 2017 when Blake tweeted to reveal that his nine-month-old son couldn't watch the Ohio State lose by 5 TDs. 
Interestingly, their family of three appears to have grown into four.
During a daily briefing on 20 Nov 2017, White House Press Secretary asked all the reporters to share what they are thankful for the 2017's Thanksgiving. Blake stated that he was thankful for his wife, and revealed that she was pregnant with their second child at the time. 
Though Blake has not spilled the beans on the birth of his second child, the buybuybaby.com reveals that the duo already has given birth to a son, whose due date was on March 16, 2018.  The couple had opened a baby registry in the site. 
Speculating at the evidence, it is clear that Blake prefers keeping his family details under the wraps while relishing his happy days. He currently lives in Washington with his other half and children. 
Blake Burman's Bio: 
33-year-old Blake Burman, who was born in Miami, celebrates his birthday every 17th of July.
Though he has kept the information on his parents and family member concealed, he timely gushes about his family via social media accounts. Back on 14 March 2016, he tweeted to disclose that his brother was cutting down nets. His post clarified that Blake has a brother. 
Blake graduated from the  University of Michigan and initiated his career as a reporter in Fort Myers at NBC2. After working for one year, he left NBC2 and had his stint on KAUZ-TV (CBS) in Wichita Falls, Texas.
Blake joined 7 NEWS in as a reporter in June 2008.
He spent most of his time covering the political scene during the election of 2010. At the time, he followed Florida's tight gubernatorial race and reported live on election night from former Governor Crist's camp in St. Petersburg.
Later, he followed Senator Marco on his first day in office reporting live from Tallahassee. In 2011, Blake was promoted as a weekend anchor to report on weeknights.
Afterward, Blake joined the FOX Miami affiliate station, WSVN-TV as a political reporter and anchor. He covered stories such as BP oil spill from the Florida Panhandle and also anchored the killing of Osama bin Laden.
However, he left the channel and landed as a Washington correspondent for FOX Business Network (FBN) in April 2015.