If you are a regular viewer of the Australian TV series, then you might probably know about Ben's Menu that premiered on 8 September 2014.
Well, the series is presented by the 35-years-old MasterChef finalist, Ben Milbourne. Though he did not win the 2012 season of reality TV cooking show, MasterChef, his good personality and down to Earth approach has made him popular with people of all ages.
So, let's get along with Ben Milbourne's wiki including his married life with wife, family, net worth, siblings, and height. 
Ben's Milbourne's Wiki-Like-Bio: From Science Teacher To MasterChef Finalist
Brought up in the North West coast of Tasmania, Ben was born to parents mother, Sue, and father, John Milbourne. He is the second of four siblings in his family. As a child, Ben and his family used to go on campaign trips, fishing, and also used to cook on the campfire.
Cooking has always been a passion for Ben, but cooking wasn't where Ben headed initially with his career. After graduating from The Queensland University, Ben started his career teaching science in high school students.
However, the turning point came to his life when his student nominated him for the hit television series, MasterChef. 
After that, he became the heartthrob of the show and started getting opportunities to work with various food channels such as 'Ready, Steady, Cook' and 'Everyday Gourmet.'
Ben, who stands at the tall height, is also the hosts of his own show, Ben's Menu. He also co-hosts the new contemporary culture series, Andy and Ben Eat the World (SBS). He even has a regular television cooking segment on The Off Road Adventure Show that airs on Channel 10.
Besides that, he is also the Tasmanian Schools Canteen Association Ambassador and works on a multitude projects to encourage cooking and healthy eating with local produce.
Not only that, Ben is also an author of his first cookbook, Mexican Craving, which was launched in November 2013. His second book, Tasmanian Trail based on Tasmanian producers was released in September 2014.
In 2016, Ben along with his wife rebranded and worked to grow their company, The Cultivate Group which includes Cultivate Productions. They even partnered with University of Queensland for their first fully produced show, Food Lab by Ben Milbourne, which premiered in 2017 on Channel 10.
Being a chef, media personality, brand ambassador, and founder of his own production company, Ben has undoubtedly gathered an enormous amount of good fortune from his work.
However, the exact figure of his net worth remains confined to the media.
Nevertheless, according to the StarChef.com, the average salaries of the chef is $85,000 and $14 per hour for line cooks; people, who make food that gets sent out to diners.
Ben Married Wife After MasterChef Ended
The chef, Ben Milbourne is a blessed husband, who got married to his longtime girlfriend, Sally.
When Ben Milbourne signed up for the 2012 season of reality TV cooking show, MasterChef, he broke up with his longtime girlfriend Sally as he was uncertain about what the future might hold. 
However, after being on the show for eleven months with limited access to the outside world, Ben realized he could not live without his girlfriend Sally. So, when the show ended, the couple reunited and got married in December 2013.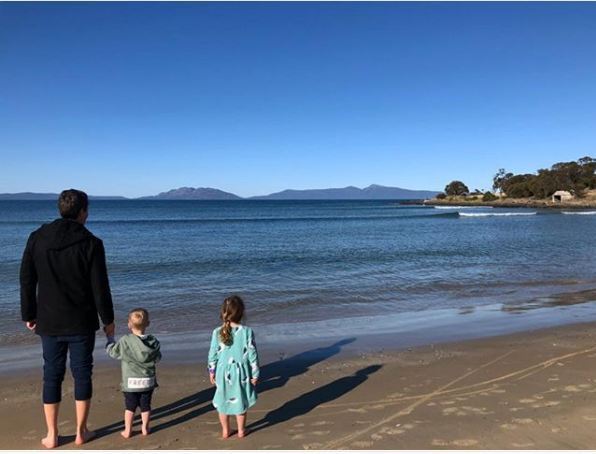 Ben Milbourne spends quality time with his two kids at weekends on 27 August 2018 (Photo: Ben Milbourne's Instagram)
After a year of their marriage, the couple welcomed their baby daughter named Charlotte into the world in 2014. And on 13 December 2015, they welcomed their second little son named Jack.
Since Ben is an active user of his social account, he keeps flaunting pictures of his wife and two kids. Ben shared a picture with his two kids spending quality time on 27 August 2018. The pictures of his wife and two kids on Ben's Instagram reflects the intimate bond, the family of four shares with each other.