Jewelry and accessory designer Ashley Broad is the CEO of three major companies, AshleyGold.com, AKB Consulting, and Pawnchickradio.com. Apart from performing all the rigorous tasks of a CEO, she also frequently blogs about Hollywood and latest jewelry fashion along with managing her household. So, how did Ashley achieve so much success at the age of 41?
Ashley Broad Married, Husband
Ashley Broad (maiden name: Ashley Gold) married her husband, Jordan Broad on 6 September 2003. Jordan is the CEO of The Institute for Applied Creativity, Chalkfly.com and also runs the business of JRB Market Consulting.  He is very close to his in-laws and is an inspiration for his father-in-law's book For What It's Worth: Business Wisdom from a Pawnbroker. 
Ashley does not always post pictures with her husband on social media, but she does mention him on some special occasions.
Ashely and Jordan welcomed a son into their married life after few years of their wedding. Even though the age of son is not public, Ashley once revealed in an interview that she loves to spend time with her son. She also mentioned that her child loved pasta in one of her tweets in 2013.

Ashley Broad talks about her son on 15 February 2013 (Photo: Ashley Brad's Twitter)
It seems that Ashley is living a low-key happy life with her husband and son! 
Ashley Broad Net Worth
After graduating with a degree in Business Administration, Ashley began working in her family business that her father started. Reality TV star and pawn shop manager, Ashley enjoys a hefty net worth of $1 million. 
Ashley Broad Short Bio
Ashley Broad was born 7 January 1978 in Michigan. Her parents Les Gold and Lili Gold raised her in a blissful family alongside her younger brother, Seth Gold. Ashley's father Les Gold owns The American Jewelry and Loan pawn shop where she made her first sale at the age of eight. Being genuinely attracted by the jewels and accessories that her father created, she soon followed her father's steps. The entire Gold family was occasionally seen in the reality show Hardware Pawn along with Ashley. Her father is also known for his appearances in shows like The Playboy Morning Show and Varney & Company.
Ashely Broad left her job at the reality TV show, Hardcore Pawn, to be closer to her family, despite the popularity and financial success. She regularly posts about her parents on her social media and never misses to wish them on their birthday. She undoubtedly shares a good bond with her family members despite the hectic schedule.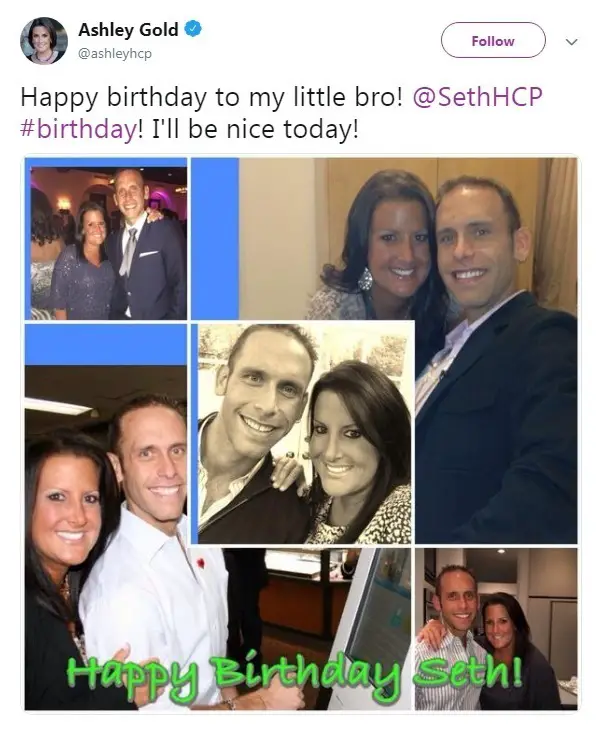 Ashley Broad wishes her brother Seth Gold on his birthday on 23 February 2015 (Photo: Ashley Gold's twitter)
Ashley, who stands at the height of 5 feet 3 inches, has battled with the body issues for a long time. When her physician told her she was obese with a weight of 180lbs, she eradicated unhealthy food from her diet. Ashley eliminated Diet Coke, desserts, Taco Bell and McDonald's; and started eating healthy home-made food, which led her to lose 35lbs soon. Some people speculated that she is lying people about the weight loss, but she flaunts her healthier body on social media and is proud of her achievement!