Anthony Everett is the broadcast journalist, now anchoring the WCVB-TV Channel 5's Chronicle- "longest-running" local TV newsmagazine in America.
He joined the program back in September 2005, and ever since there have been multiple occasions, he was honored with Emmy Awards, including Emmys in 2016 for his astounding reporting on Education, and also for an impressive covering about the high incidence of cancer amongst Boston Firefighters.
And, before that, for his reporting on 'Alzheimer's as a societal concern'(2015); for hosting a special on "Holiday Lights" (2015), for a special on the Boston Pops 125th anniversary (2011), for his reporting on the recycling industry (2009), and the list goes on!
WCVB- Anthony Everett's Wiki: Age, Height, Net Worth
Born and raised in New York City, Anthony now stands to some unrevealed number of height, his age being 58.
Continue Reading: What Is WCVB Mike Wankum Age? Bio Disclose Wife, Family, Salary
Fresh out of Tufts University, Everett had been accepted at Boston College Law School back in the earlier days. However, he decided to go for a degree in English and Philosophy, eventually a career in TV journalism.
A few years ago he happened to say that had it been the other way, he could have "just as easily been a lawyer": a comparatively easier road.
Nevertheless, he can not be happier, now that he gets the fame followed by big chunks of money for his service.
Although he is yet to confirm the precise figures to his net worth, one can always make a bit of assumption from the 'Average Journalist Salary' estimated by payscale.com.
Notes: An average salary for a journalist somewhere around $40K, at the lowest, and excluding bonuses, and incentives.
Married Status
Anthony is happily married to his wife, Lydia. Because not much has been openly kept in public, their relationship timeline is not easily traceable. Their first encounter, the proposal, or the type of wedding they exchanged their vows under, everything is likely sealed.
But then, putting the bits and pieces together, it is safe to say that his wife grew up on Lake Michigan, and for that reason, she always wanted to "live on the water again."
Get To Know: WCVB's Erika Tarantal Wiki Reveals Age, Husband, Salary, Family
And, so on a particular day, while wandering through Cohasset, she gave her husband a call. Not far from Boston and right by the water, they eventually found the place they were so looking for so long: "a great place to raise a family."
And, today, they indeed have built one happy house, with their two children, all grown up.
Last reported on- 22 August 2010, their son, Alexender, was 17 and daughter, Clarie, 8.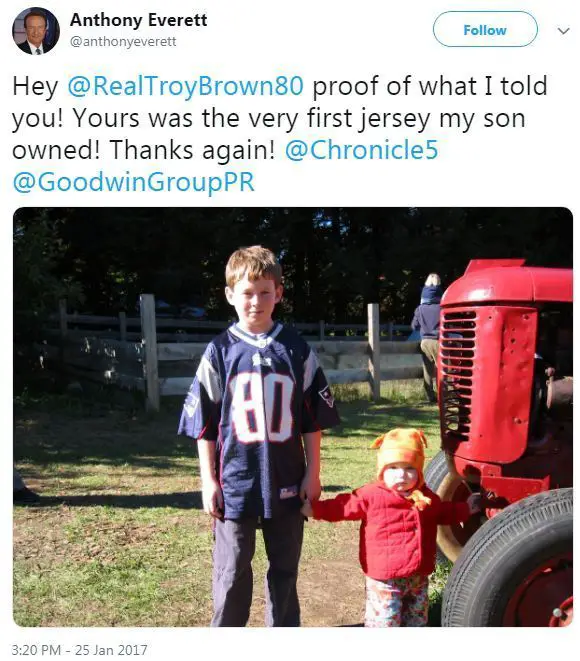 Anthony Everett mentions his son on 25 January 2017 (Photo: Anthony Everett's Twitter)
The family was also accompanied by a pair of "exceptionally friendly" Portuguese water dogs- Buster and Gracie; Buster being the uncle of 'Bo,' the dog of President Obama's family.