Anqunette Jamison better known as Q was a morning anchor at Fox 2. She loved her job and enjoyed working for it.
However, despite loving her job, the anchor decided to retire when she was diagnosed with multiple sclerosis in 2013 after suffering its symptoms for ten years before that.
At first, Anqunette took some time off for health reasons, but when she realized multiple sclerosis was making it harder for her to do her job right, she finalized her decision to retire at around the age of 44.
Her mental and physical health condition declined, making it difficult for the anchor to keep up with the everyday demands of her television job.
But, Anqunette still considered fulfilling her childhood dream of working in the television news industry as her greatest accomplishment.
As of now, she is recovering and manages her business, BotaniQ Marijuana provisioning center, with her husband.
And after taking her husband's suggestion to try cannabis, her daily symptoms of nausea and headaches have disappeared. Also, by changing her diet, Anqunette managed to discontinue the use of her nine medications.
Married / Wedding Details With Husband
Anqunette is married to Richard Sarfoh, a Regional Sales Manager in North America at EJOT-ATF.
Anqunette held her wedding on 27 May 2011 and also organized a wedding after party at Club waterfalls, 673 Franklin, Detroit.
Also A Fox 2 Anchor: Deena Centofanti Bio, Age, Married, Children
Richard received a degree in a Bachelors of Business Administration from Campbell University in 1999. And further, he completed his education by doing an MBA in Global Management from the University of Phoenix in 2003.
After retiring from her TV job due to health issues, Anqunette along with her husband Richard started their own business together. They opened BotaniQ, a Medical Marijuana Provisioning Center that was approved to be operated on 6 November 2018.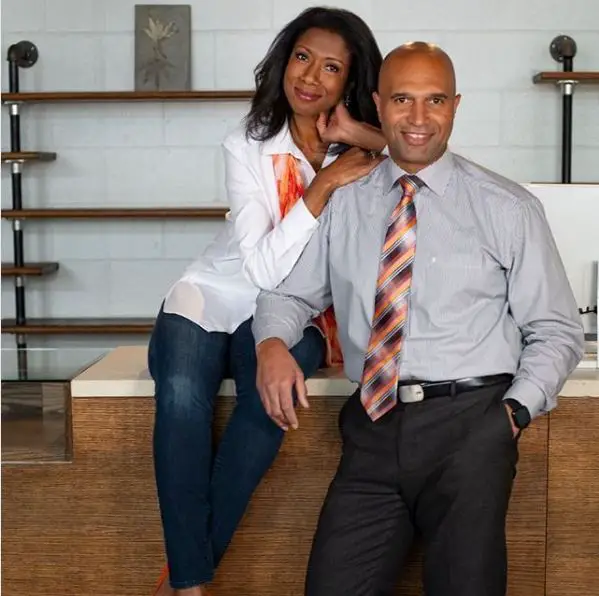 Anqunette Jamison with her husband, Richard Sarfoh, announcing the opening of her new venture on 1 November 2018 (Photo: Anqunette Jamison's Instagram)
As for her kids, Anqunette has a step-son named Casa Sarfoh. She has built a good relationship with not only her step-son but also her mother-in-law.
Spending so much time together not only as life partners but also a business partner might be the reason for the strong relationship between Anqunette and Richard.
Anqunette Jamison Wiki-Like-Bio
Anqunette Jamison was born on 20 November 1971. The anchor completed her education with a degree in Bachelor of Science in BS, Radio/Television and Journalism from Butler University. 
Talking about her parents, her father seems to be a friendly and decent man who loves products that are on sale. And well! Who doesn't? Anyway, Anqunette appears to take after her father as she loves products on sale as well. 
Learn About: Allison Seymour Age, Husband, Children, Salary
As for her mother, she suffered from some health issues but recovered by following few tips. Her mother lost 11.33 kgs (25 lbs), reduced insulin by 65 units per day and cut blood pressure medicines in half. 
Anqunette is a family-oriented person who takes care of her loved ones and manages both her work life and family life.