Annita McVeigh, a renowned BBC news presenter and a mother of two, relishes her seventeen years of marriage with Martin Reid. However, she is very reserved about her personal life and doesn't fancy sharing much of her information publicly.
Annita McVeigh's Husband and Kids
It was at the fifth-anniversary party of BBC News 24 that the journalist first met her partner Reid and fell for each other. The couple later got married in 2004 and has a son and a daughter. As she is not much of a social media person, her social media posts are usually regarding her work.
Moreover, the family of four resides in Hertfordshire, where McVeigh is a governor of literacy at her kid's school. And, after a long day at work, she spends some quality time at home with her family and unwinds watching some regular tv shows.    
McVeigh's Career at BBC
The presenter kick-started her career in Northern Ireland in the late 1990s as a BBC Newsline program reporter. Later, in 2002, she began working as a news correspondent for BBC Network news and reported for BBC One, BBC Radio, and BBC News. And since 2006 she has been working as a BBC News presenter.  
From over decades of her service as a journalist, McVeigh might have accumulated an impressive amount of net worth but is yet unknown. However, her salary at BBC as a news presenter is probably around 70 thousand pounds.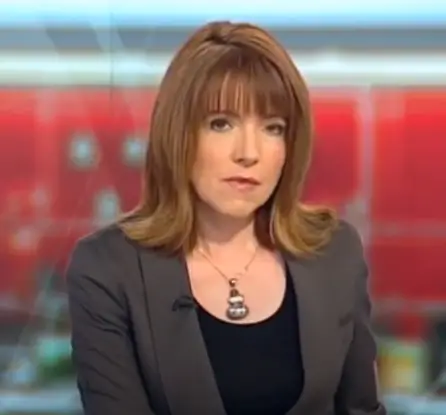 Annita McVeigh presenting BBC news. (Source: YouTube)
Short Biography: Age, Parents, Net Worth
McVeigh was born and raised on a farm of Armagh as a single child and attended school in Dungannon. Her parents Gerry and May, had a farm, and she assisted them with the farm work, but they always wanted their daughter to have an accomplished reputed career. 
Supported by her parents, she started taking several personal skill development lessons in drama, singing, and elocution from a young. Unfortunately, while she was in her first year in college for an English and politics degree, her father died of a Heart attack. And sadly, in 2015, her mother passed away from dementia, in a local nursing home. 
Although it was hard for the presenter to get away from her mother for her job in London, she achieved the life that her parents wanted for her and is now a famed news reporter at the BBC. Besides her expertise in journalism, some of her fans are often curious about her gorgeous voluminous hair while at the news studio, confusing her hair with a wig. But, luckily she has been blessed with great genes to have such great hair, still while probably in her 50's.