If you have watched the popular comedy-drama series Shameless, you must be familiar with the character of Monica Gallagher which was played by very talented Annabelle Apsion.
Apart from Shameless, the actress is known for popular TV shows and movies like From Hell, Soldier Soldier, and Doc Martin. 
Recently, she played Violet Buckle in the eighth season of Call the Midwife in January 2019 which received praise and appreciation from audiences. Her dedication and hard work has provided her as many opportunities possible which she has grabbed with both hands.  
However, Annabelle might not have disclosed her net worth, but the gorgeous actress has made the best out of her career and admittedly has secured decent wealth to maintain a comfortable life.
Is Annabelle Apsion Married To Husband?
The beautiful actress who stands at an average height of 5 feet 3 inches (1.6 meters) has been more focused on her professional life than planning for personal married life.
That might be the reason why Annabelle Apsion enjoys living solitary in her luxurious villa in Hampstead, North London. And whenever she feels bored of staying alone, she shifts to her another interest after acting, that is, practicing Rosen Method Bodywork.
You Might Like: Katharine Wilder Bio, Age, Net Worth, Family, Today
Besides Rosen, Annabelle loves children very much but doesn't feel that she should give birth to her children to love them. However, she wants to foster or adopt children who are already existing yet lack parental love. Thus, she is searching for such a man/husband who would match up with her thoughts. 
Despite having a private real-life, Annabelle's on-screen story is different than her real-life story as she plays the role of Monica Gallagher in the comedy-drama Shameless. Monica is the ex-wife of Frank Gallagher, played by English actor David Threlfall, and gave birth to eight children with Frank.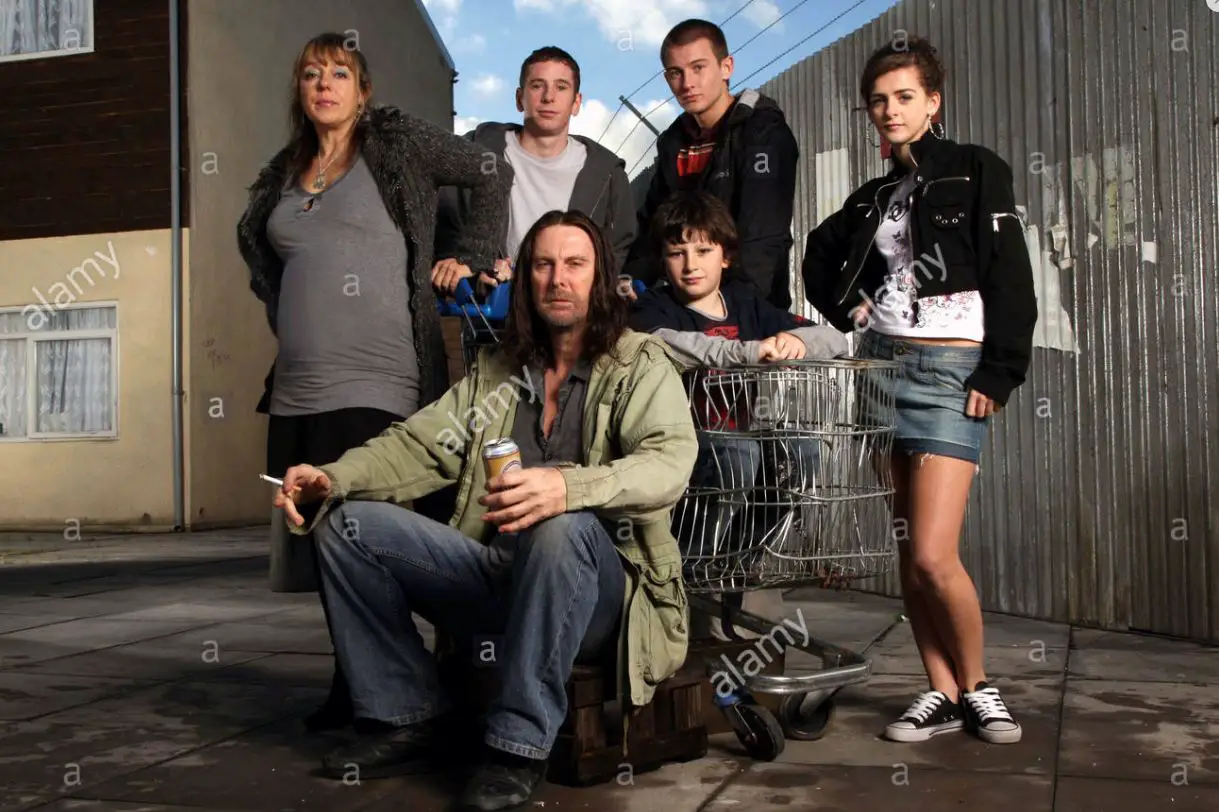 Annabelle Apsion (standing, left) posing with the cast of comedy-drama Shameless on 23rd February 2010. (Photo: Alamy)
Moreover, she is bisexual and later leaves her husband for a lorry driver (girl), Norma Starkey, which is portrayed by Dystin Johnson in the show.
Moving on, Annabelle has not disclosed her current relationship status to her fans; however, her fans are hoping that she finds a perfect man who fits into her life comfortably.
Her Bio: Age, Family
Annabelle Apsion was born on 17th September 1960 in Hammersmith, London. However, she moved to Hampstead, England with her family when she was growing up.
Annabelle, age 58, has often stayed silent over revealing the details of her family members to keep her family members away from needless attention from the public.
Know About: Harumi Maekawa Wiki: Age, Family, Shinsuke Nakamura
Nevertheless, little that is known about her parents is that Annabelle's dad was a VAT inspector, whereas her mom used to run nursing agencies in Surrey, England. She even has a sister named Georgia.
Speaking about her studies, Annabelle studied at Godalming College in Surrey before enrolling in the University of Wales for her graduation.