Anita Manning is a Scottish antique expert and television personality, who is widely recognized for her appearances as an expert and presenter on the BBC's Bargain Hunt, Flog It! and the Antiques Road Trip.
She is claimed to be the first female auctioneer in Scotland. She developed a better knowledge of antiques by buying furniture from auctions. Besides her career, Anita Manning is married and is a working mom to her children. She opened Great Western Auctions with her daughter in 1989.
Anita Manning's Married Life, Children
70-year-old Anita Manning is a married woman. 
Don't Miss: Oliver Steeds Bio, Age, Married, Wife, Family, TV Shows, Net Worth
However, she prefers to keep her marriage out of the limelight despite being a television personality  Not much is known about her husband and married life.  Nevertheless, it is known that Anita and her husband together share two children, a daughter, Lala and a son, Luke.
The antique expert works together with her daughter in their Glasgow Auction house. Her daughter Lala runs the business, Great Western Auctions, and the two have worked there since 1989.
As for his son, Luke lives in Hong Kong and runs his own business there. Anita currently lives in Glasgow, Scotland with her family and friends.
Anita Manning Works With Daughter 
Anita Manning along with her daughter Lala Manning established The Great Western Auctions Ltd. in 1989 in Glasgow. In doing so, she became one of Scotland's first female auctioneers.
Their first premises were in the heart of the West End of Glasgow with a staff of 3 including her and daughter, Lala.
Their programme includes fortnightly Antiques and Collectables Auctions, Quarterly Fine Arts and Antiques Auctions and a variety of Specialist Auctions throughout the year.
You May Like: Celeste Headlee Wedding, Husband, Personal Life, Family, Bio, Height
At Great Western Auctions, Anita combines the traditional values of integrity, personal service, and expertise with the latest technology.
Anita and the staff also take parts in fundraising for many charities including Children in Need, Marie Curie, CHAS, CLIC Sargent, Combat Stress, Poppy Scotland, and Help for Heroes and many others.
Great Western Auctions has also taken part in many BBC antique programmes including Flog It, Bargain Hunt and Cash in the Attic. Over the last twenty-nine years, Great Western Auctions has become one of the leading independent Auction houses in the UK.
From Dance Teacher To Auctioning: All About Anita Manning's Bio
Anita was born on 1 December 1947 in Glasgow, Scotland, UK. Her mother, who lived in Australia for the last thirty-five of her life, deceased in the year 2014. 
Anita studied physical education and dancing in her college times. She later worked as a dance teacher before going full time in auctioning. She got interested in antiques after her father started taking her to auctions at Sauchiehall Street in Glasgow.
She dived into the antique business in the 1970s after buying a bed from an Irish dealer. The dealer offered her a job as a buyer, and this was the start of her job as an auctioneer.
Since then, she bought and sold furniture in England and Ireland for about three years driving all around in a truck. She became the first female auctioneer of Scotland.
In 2003, Anita landed as a host for BBCs' Bargain Hunt, Flog It and Antiques Road Trip.
See Also: Lisa Boothe Married, Husband, Wedding, Parents, Boyfriend, Dating, Height, Measurements, Salary, Net Worth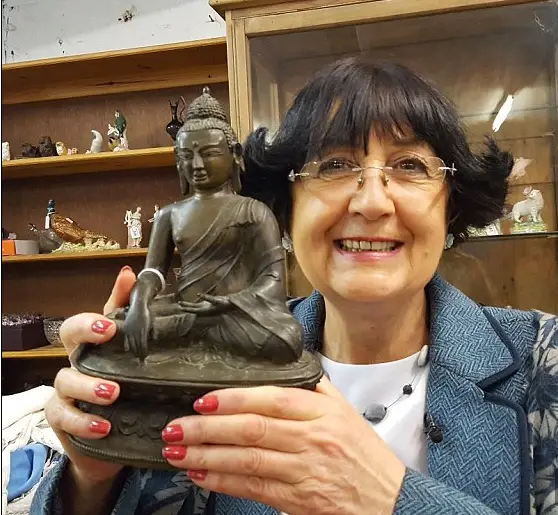 Anita Manning picked up bronze Buddha for just £50 in a shop in Kent and sold it for £3,800 in September 2016 (Photo: dailymail.com)
In 2016, Anita set a new record for the most significant profit on a single item on the Antiques Road Trip. She had purchased a Buddha statue at £50 and sold it for £3,800 by making 7,500% profit.
Anita Manning earns an enormous amount of money from her work and profession at BBC by presenting TV shows like Bargain Hunt, Flogs It! and Antiques Road Trip. However, the exact detail of her net worth remains confined to media.
Nevertheless, the average salary of TV host at BBC is $27K - $130K.