American professional chef Amanda Freitag is best known for being the judge of Chopped and the co-host of American Diner Revival. She is also the one, who went against Bobby Flay on Iron Chef America.
Amanda has been a great chef over the years, teaching about the art of cooking and learning herself as well. But her personal life is not as transparent as her professional career.
Low-Key Relationship 
46-year-old Amanda was in a long-term relationship with Raphael, an ultrasound technician.
In an interview in 2014, Amanda had mentioned about having a four-year relationship with Raphael. She also stated that her boyfriend was benefitted from her job as he got to travel and eat at different places with her.
Moreover, she also spilled about her plans and said that she was not sure of marrying or having children at the time. 
Since then, Amanda has not talked about her love life ever. She has neither mentioned her boyfriend Raphael in any case nor romantically linked with any other person.
So, it's not sure if she is still dating her then-boyfriend or has been married to him secretly. No information regarding her husband has surfaced out.
Amanda's Bio: Career, Family
Amanda was born on 11 May 1972 in New Jersey, United States. Her mother, Cathleen was a manager of Verizon whereas her father, Paul worked for a computer company.
She grew up in Cedar Grove, New Jersey along with her two siblings named Jason Freitag and Justin Freitag. Amanda enrolled in Cedar Grove High School and graduated from the Culinary Institute of America in 1989.
Just after her graduation, she joined Vong New York, working under the French chef Jean-Georges Vongerichten. In 1994, Amanda left Vong New York and started working at Verbena. Later, she traveled to Italy and France to work as a chef.
In 2003, she collaborated with restauranteur Godfrey Polistina and opened the Upper West Side restaurant Cesca Enoteca & Trattoria. Amanda was the executive chef at Cesca. Afterward, she moved to The Harrison as the executive chef and worked there until 3 September 2010.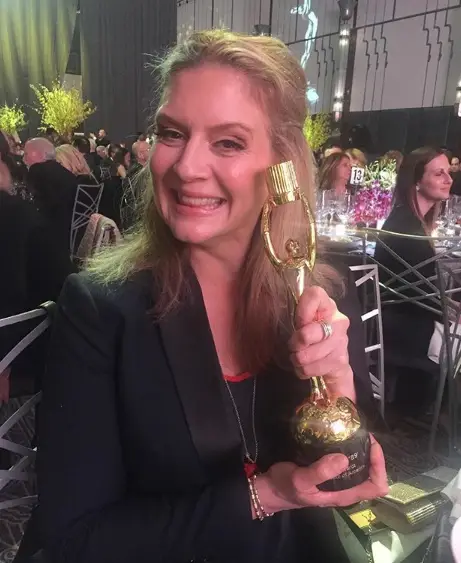 Amanda Freitag wins The Culinary Institue of America Leadership Award on 26 April 2018 (Photo: Amanda Freitag's Instagram)
Amanda not only worked as a chef but she was a frequent judge on the culinary game show Chopped. She also was in a competition named Iron Chef America, where she went head on with Bobby Flay but lost narrowly with a point difference.
Amanda also joined the second season of The Next Iron Chef Season 2 and finished fourth. After this, the chef stated that she would continue as the judge for the 2010 season of Chopped.
In 2012, in an episode of Iron Chef America, Amanda appeared alongside the Chopped Grand Champion Madison Cowan in Battle Kale.
In that particular episode, she acted as Madison Cowan's sous chef. In the same year, Amanda appeared as a contestant in The Next Iron Chef and made it to the finale. Unfortunately, she lost to Alexandra Guarnaschelli in the end held on 23 December 2012.
With her cooking career, Amanda has amassed a hefty net worth of over $3 million.