Alicia Malone is an Australian television personality, now based in the United States, is known for her film reporting, and hosting TV shows. She is recognized for her series Malone's Movie Minute.
Besides that, she has also hosted and edited for Movie Network Channels—she handled several movie-centric shows, including Movie Juice and Premiere; and hosted live red carpet events for the Tropfest Short Film Festival and AFI Awards.
Moreover, Alicia has interviewed many big names from the movie industry, like Tom Cruise, Jake Gyllenhaal, and Ryan Gosling.
Wiki-Like Bio, Education
Alicia Malone was born on 4th September 1981 in Canberra, Australia, as Alicia Maree Malone. Since a young age, she developed an interest in films—and spent most of her time watching movies at the video store. She also started a film club in school and elected herself president. Eventually, after completing her high school education, she moved to Sydney and worked at a video store so that she be close to films. 
Interesting: Martha Sugalski Bio, Age, Husband, Net Worth
In late 2010, Alicia decided to move to Hollywood—the film capital of the world—to chase her dreams. She worked as a freelance film critic and journalist for a living, appearing on television networks like America's E!, MTV, Fandango, AMC Movie Talk, CNBC, Hollywood Today Live, Access Hollywood, and many more. 
Measurements: Height & Weight
The talented film critic Alicia Malone stands at the height of 5 feet 6 inches (1.66 meters) and weighs 60 kg (132 lbs). Additionally, her breast size is 31 inches, waist size is 25 inches, and hips size is 36 inches.
Tattoo
Alicia Malone flaunts her beauty, usually, everywhere she goes. And the tattoos on her body makes her look even more beautiful and attractive.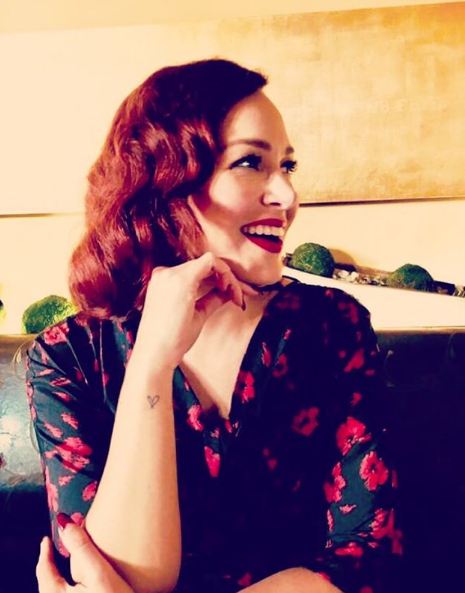 Alicia Malone showing her heart-shaped tattoo on 9 April 2019 (Photo: Alicia Malone's Instagram)
Amongst her many tattoos—the heart-shaped tattoo on her right-hand wrist is usually seen. Besides that, she also has a tattoo on her legs—her right foot has an "explore" written tattoo while her left foot has a dancing man tattoo. Likewise, she also has a written tattoo in her right biceps.
Books
Alicia Malone is also recognized as a skillful author who has published a couple of books. She published her book titled "Backwards and in Heels: The Past, Present, And Future of Women Working in Film" on 15 August 2017.
Famous Author: Claudia Rowe Wiki, Age, Married, Husband, Family, Parents, Now
Moreover, the book that she has written is based on the stories and accomplishments of women who made an impact in Hollywood. Additionally, her book also includes exclusive interviews with inspiring women and men from  Hollywood, including Geena Davis, Octavia Spencer, America Ferrera, J.J. Abrams, Ava DuVernay, Paul Feig, and Todd Fisher.
Quick Facts About Alicia Malone
Alicia Malone's family were lovers of movies—especially her parents. 
She delivered a speech in the TED talk addressing the lack of girls in the film in 2015.
She has traveled the world to cover the Sundance Film Festival, Cannes Film Festival, Toronto Film Festival, and Comic-Con.
She is also a member of the Hollywood Critics Association.