As an American Television Personality as well as an anchor of Money for Breakfast and The Opening Bell on Fox Business Network along with as the Vice President of Business News. The name Alexis Glick must be taken with respect because she deserves it for Her hard work and unmatchable skills have given her this position. Her diverse work in the television industry for such a long time is commendable in itself.
Alexis Glick Fox News, Salary / Net Worth
Alexis Glick is known for her work as a television personality. She began her career as an analyst at the Goldman Sachs company where she became the first and the youngest woman to manage an operation at Morgan Stanley where she was in charge of floor operations. 
She then worked for television stations like NBC News, MSNBC, and CNBC. In CNBC, she was the senior trading correspondent, reporting from the floor of the New York Stock Exchange for CNBC's flagship morning program. 'Squawk Box.' Later, in NBC New's she was a correspondent of Today Show, where she co-anchored the third hour of the program alongside Katie Couric, Matt Lauer, Al Roker, and Ann Cury.
Don't Miss: Rudi Bakhtiar Married, Husband, Divorce, Net Worth, Height, Now
She started to work with Fox News Channel from September 12, 2006, as the Director of Business News. While working there, she interviewed world leaders like Barack Obama, Stephen Harper, John Bruton, and others. She also frequently made her appearance on CNN, where she provided her perspective on issues impacting global business, corporate leadership, and Wall Street.
At present, she is the founder and CEO of GENYOUth foundation which is a nonprofit organization dedicated to nurturing child health. She must be earning a handsome sum of salary, and her net worth must be in millions, but the actual amount of salary is in Thousands of dollars, and net worth has not been disclosed.
Family - Husband, Children
Alexis's relationship status is married. She is married to Oren Glick. Oren is the founder and the president of Shoot Digital, a photography company in Manhattan. He is undergraduate and a masters degree holder of New York University. His parents Erika and Barry Glick owned West Side Camera, a retail store in Manhattan. After dating for some time, she tied her wedding knot with her boyfriend in 1999 in Sagpond Vineyards in Sheaponack, New York. 
With her husband Oren, she has got four children. They are namely Logan, Kyle, Slate, and the youngest girl Jade. So, they have created a lovely family together which radiates happiness in their life.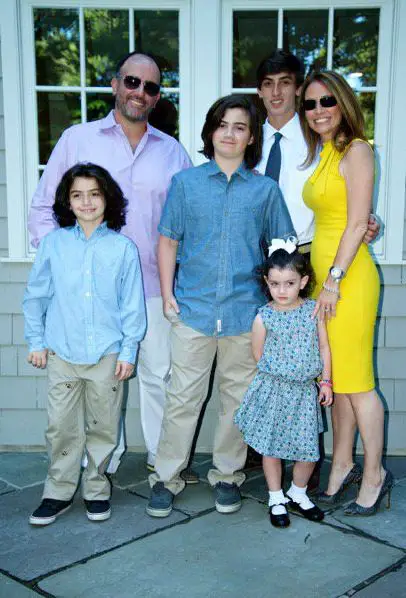 Alexis Glick spends quality time with her whole family in 2017 (Photo: Alexis Glick's Twitter)
Up to now, no bad news of divorce has been heard. They have been successful to sustain their marriage. For this well-functioning of the marriage, there could have been various factors responsible for like mutual trust, understanding, and love. We are happy for her and wish that her family stays strong and stable for days to come too.
Discover: Zain Asher Wiki, Married, Husband, Boyfriend, Salary, Net Worth, Bio
Alexis Glick Bio, Height
Alexis Glick's birth name is Alexis Cahill Donnelly. She was born on August 7, 1972, which means that her current age is forty-five. She grew up in Manhattan in the private residential development of Stuyvesant Town. By nationality, she is an American citizen, and her ethnicity is white. Her father Robert E. Donnelly was an entertainment Lawyer in Manhattan and her mother Ellen Cahil Donnelly was a secretary for Lehman Brothers and office manager in Brooklyn for the Forest City Ratner Corporation. Her parents brought her up with immense love and care as every parent does.
As per her education, she passed out from Dalton School and earned a bachelor degree holder in political science from Columbia University.
She is an attractive looking woman with a great figure and charming personality standing at an average height. Her brunette hair is a match with her slim face and brown eyes. While presenting herself on television, she shows herself in a beautiful attire knee-length dress flaunting her slim figure and legs.