Alexis Christoforous is an award-winning television and radio journalist. She is also a New York-based correspondent, anchor, and reporter of Yahoo Finance. Know her bio, family, husband, and education details that you mustn't miss.
Alexis Christoforous' Wiki: Ethnicity, Education
Alexis was welcomed into the world on 19 October 1970 in New York as per her wiki. She is from a mixed ethnicity as her father, Alexander Christoforous is Greek-Cypriot and mother, June is Italian-American. Her father is the retired manager of Josephine's, a former restaurant in Manhattan. Alexis, age 48, graduated cum laude from the New York University with a degree in English and Journalism.
Career / Net Worth
Alexis has come a long way regarding her career in Television. Her first job was with Bloomberg Television and Radio in 1994. During her time in Bloomberg, she covered news like the stock market bull run, the subsequent internet bubble burst, the economic impact of 9/11 attacks, the resignation of New York stock exchange CEO, Richard Grasso and the wave of wall street scandals of Enron, Worldcom, Martha Stewart.
See Also: NBC's Amna Nawaz Bio Reveals Age, Wedding, Husband, Parents
She also worked as CBC's reporter before working on the Yahoo Finance. Alexis subsequently made her name by conducting many newspaper and entertainment interviews with huge names like Madonna, Tom Cruise, Ringo Starr, Tony Bennett, and Francis Ford Coppola.
From her career as a journalist, she has amassed a considerable amount of wealth. The base salary of Yahoo Finance ranges from $86k-&$141k, whereas, as a news anchor her estimated average wage is $59k. So, it's safe to say that Alexis makes a considerable sum and her total net worth is equally impressive with her heightening success.
Alexis' Husband & Family
A look into her love life shows that Alexis got married to her husband, Karl Peter Kilb on 11 June 2000. They had their wedding ceremony at St. Joseph's of Yorkville Church in Manhattan. Karl's father is a retired accounting manager while his mother is a customer service representative.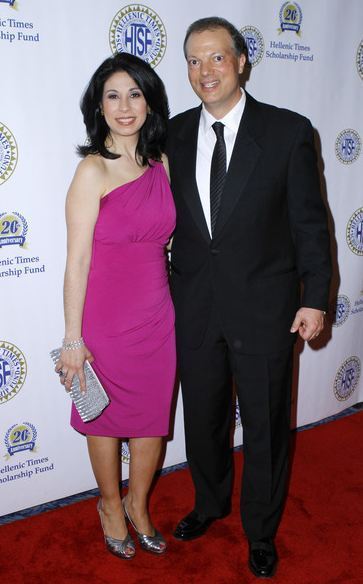 Alexis Christoforous attends 20th Anniversary Hellenic Times Gala with husband Karl Peter Kilb at The New York Marriott Marquis on 14 May 2011 (Photo: zimbio.com)
Alexis' husband has graduated magna cum laude from NYU with a B.A. in Broadcast Journalism. He was the CEO of Bolero Global Limited, a New York City-based technology company. Apart from that, he was also the founding principal of Bloomberg Tradebook LLC.
Don't Miss: Rove McManus Net Worth, Wife, New Show, Married
Alexis is currently living in Manhattan with her husband and with their three children, two sons, and a daughter. She frequently shares pictures of her family on her social media sites. That is how she has let people know that she is more than happy with her married life with kids and a loving partner.