Tatyana McFadden, against-all-odds, has lived her life to the fullest, making her dream come true. And, for most of it, inspiring people to do the same, to create the best out of what we are born with.
Tatyana, in her height of 5 feet and 3 inches (1.6 meters) is a Russian-born United States Paralympian athlete, who, despite her waist-down paralyzed physique, began racing at the age of eight.
She was one of the few unfortunate people to have been born with spina bifida - a congenital disorder, literally speaking, a hole in her spine.
Adapting to the catastrophe, Tatyana grew up using her hands to get around. Looking back, it was not a comfortable journey that she surpassed. Yet, she surely made the most of it.
Story About Tatyana McFadden's Adoption
Today, as Tatyana cited her story about how she made it thus far in her life, she emphasized that it was a miracle in itself that she survived.
Keep Reading: Jennifer Azzi Married, Bio, Lesbian, 2019
Three decades ago, a baby was born in St. Petersburg, Russia. The doctor suspected the infant would not survive more than a few days.
The saddest part of it all is that the parents, henceforth, abandoned the baby to a local orphanage.
Without any medical attention, and too poor to afford for the wheelchair, the newborn learned to walk on her arms, and, did so, until she met her savior, Deborah McFadden, the then-commissioner for disabilities in the U.S. Department of Health and Human Services.
Young Tatyana soon got adopted by her new mother. This is what Tatyana's "mom" had to say about the time they met,
I still can't explain the connection we had, but there was no question in my mind that she was supposed to be my child.
Neglected for so long and, Tatyana, finally found her 'father' and 'mother' in Deborah and her partner, Bridget O'Shaughnessy, who later on adopted two more girls from Albania.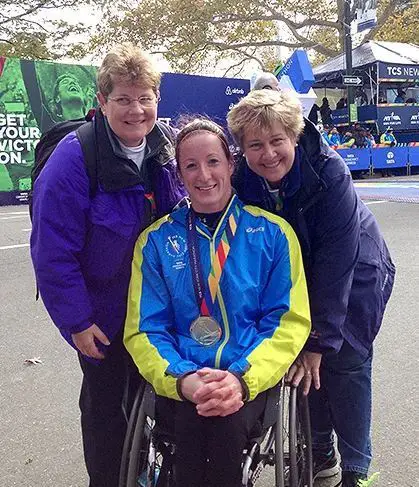 Tatyana McFadden, with her two moms, Deborah McFadden, and Bridget O'Shaughnessy, spotted during one of Tatyana's winning (Photo: people.com)
Promptly, Tatyana got to walk around with the help of a wheelchair.
And, eventually, her new mothers soon got her involved in all sorts of sports, including basketball, sled hockey, swimming, gymnastics, and track.
Married, Boyfriend?
Tatyana, someday, wishes to experience the 'Notebook' kind of romance in her life.
Peek Into: Paula Radcliffe Husband, Children, Net Worth
The romantic movie means so much to her. She hopes to have an ending as happy as for Ryan Gosling and Rachel McAdams' character in the film.
Meanwhile, in the real world, Tatyana is yet to exchange her "I do's" with a husband. And, up until she makes it official about her dating life, her boyfriend remains unheard of.
Net Worth
Tatyana, with a great many titles and wins under her names up until now, added one more credits to her name as she secured a second-place in 2019 Boston Marathon. 
The multiple Paralympic medals winner, in several Summer Paralympic Games, is yet to announce the extent of numbers occupying her current net worth.
And, with her looking forward to plenty of future-victories, she sure has prospects of ever-getting more significant fame, followed by yet more riches.