Jennifer Azzi, age 50, is among the few of such faces in the women's sports history, who occasionally give their best to work for the betterment of women. As a whole, besides focusing on her own demanding, currently (2019), the former basketball head coach of the women's team at the University of San Francisco found herself leading in the second NBA Academy India Women's program. The very event explicitly added to her previous achievements and winnings.
Looking back, Jennifer was dubbed in the Basketball Hall of Fame in the regular years from 2010 to 2016. The Olympic and FIBA world champion of her time led the USF team to a tremendous turnabout during the six years of her regime.
As Jennifer stepped down from the position, she got engaged working globally for the women's programs, including the NBA's seven academies.
More Of Sports World: Will Selva Bio, Age, Wife, Family, Salary
Talking about her physical physique, she stands to a height of 5 feet and 8 inches (1.73 meters) and a varying weight of somewhere around 140 lbs.
Coming Out As Gay
Jennifer, with much thought on the matter, decided to come out as gay during an Anti-Defamation League's Torch of Liberty Award ceremony at the Fairmont Hotel on 31 March 2016. On occasion, as she introduced Rick Welts, the first American sports executive to come out as gay, she added that it was Rick who had spurred her to get out of the shell she had been hiding in for so long. Her exact words being,
I, too, lived a long time not being 100 percent honest. Kind of the don't-ask-don't-tell kind of thing. And it's so stupid. I don't know why we do that, but we do that. I'm a college coach. Is it going to hurt me with recruiting? What are people going to think? And you are constantly worrying about those things. What I realized in watching Rick in his path and his journey is that there is nothing more powerful than living the truth. And the best thing I can do for my team is be authentic and true to myself.
Not just that, it was then only that everyone came to know about her thus far concealed marriage with one of her assistant coaches at USF. According to her, the whole process was an attempt to being genuine and true to her own self.
All along, a month later, answering to the buzzings regarding the lesbian matters, the Catholic University's coach firmly noted that any students or athletes who had "an issue" with her sexuality and relationships were no longer welcomed on the team.
Jennifer Azzi's Married Life With Wife
The sports world not just gave Jennifer a fulfilling career but also a partner to support her through the highs and lows of life. The star coach married the love of her life and the colleague of six years, Blair Hardiek, secretly, over an August wedding in the year of 2015.
A year and a half and they welcomed a beautiful baby boy and named him, Macklin Robert Hardiek Azzi after one another's name.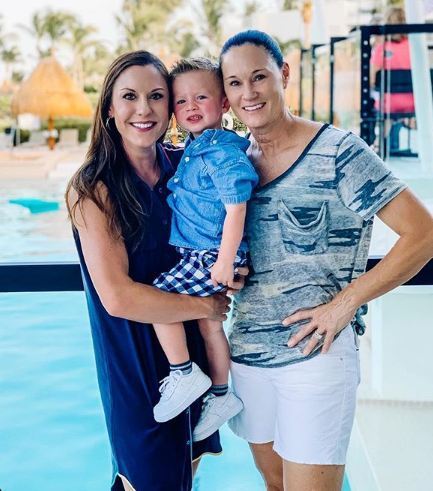 Jennifer Azzi with her wife, Blair Hardiek and son, Macklin Robert Hardiek Azzi on 20 July 2019 (Photo: Jennifer Azzi's Instagram)
Today, a few years to a blissful married life and they have already grown so much as a family. Like Jennifer, her wife has a demanding career of her own. Even so, they make sure to be there for one another and most importantly, for their little one.