Sid Hartman learned about hard work from an early age.
Starting his struggle by selling newspaper from the age of nine, he has since then raised up to an immense height of success, that now he is known as a legend in the sports reporting field.
He has set an excellent example for many young people of today, and he is still working hard at what he does best.
Sid Hartman Bio: Age & Health
Sid Hartman was born on 15th March 1920 in Minneapolis, Minnesota. He was raised in North Minneapolis, where he dropped out of high school when he started delivering papers for the Minneapolis Tribune. 
Sneak A Peek Into: Jac Collinsworth Wiki, Age, Net Worth, Parents, Wife
At the time, he had not received any formal writing training. But, on 11th September 1945, Sid wrote his first column for the Minneapolis Daily Times and now continues with his work for the Minneapolis Star Tribune.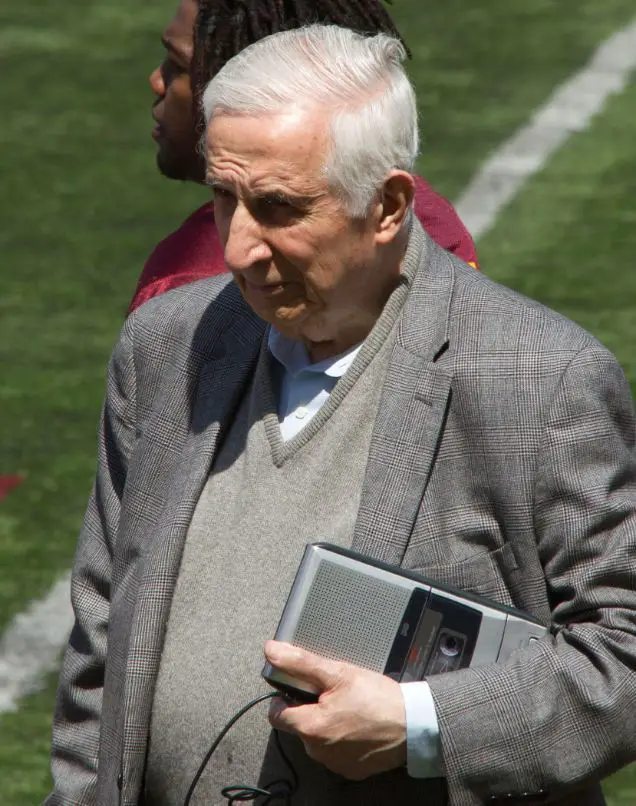 Sid Hartman has been successful in his career as Sports Journalism till date (Photo: upload.wikimedia.org) 
After two years, at age 27, Sid became the acting general manager of the Minneapolis Lakers. He helped to build the first dynasty in the NBA. 
He has also appeared on Minneapolis' WCCO Radio as a radio sportscaster and commentator. His habit of referring to the sports figures as "my close personal friend" while interviewing, got a lot of attention. 
Sid has even published two books, 
Sid!: The Sports Legends, the Inside Scoops, and the Close Personal Friends.

Sid Hartman's Great Minnesota Sports Moments.
Talking about his health, in 2016, the 96-year-old legendary Minneapolis Star Tribune columnist, Sid Hartman broke his hip in a fall on ice and underwent surgery. He was hospitalized for weeks and had to begin rehab.
See Also: Mike Fratello Furtive Married Life With wife! Family, Age, Net Worth
In March 2019, a few days before his 99th birthday, Sid got stuck in an elevator for a while when he was leaving the Star Tribune's downtown Minneapolis offices for a good 80 minutes.
Due to many incidents and his age as well, many get confused if he is still alive and searches about the topic of his death.
Sid Hartman's Family: Daughter & Wife
Sid Hartman got married to his wife, Barbara Balfour, in 1964. But after eight years of marriage, in 1972, the couple's divorce got finalized.
During their marriage, there were times when they remained apart. They have now been divorced for decades. 
His wife has a daughter named Chris from her previous marriage. And though he never formally adopted her, Sid still considers Chris as his daughter and her kids, Justin and Kally, as his grandchildren.
Sid has a son named Chad Hartman from his marriage to Barbara. After divorce, the couple had joint custody of Chad but not Chris. This made things a little complicated in the family.
But Sid's feelings for both of his kids never changed. He is a proud father of his talented and amazing daughter and son.