Sean McDonough is one of the most gifted American broadcasters of sports television.
Currently, a leading play-by-play commentator for ESPN's college football and college basketball games, he has been with the network since 1989, except for the time between 1996 and 1999 when he was exclusively employed with CBS.
Since 2000, the sports maestro has announced baseball, college basketball, college football, NBA, NHL, and NCAA for ESPN networks. He also contributed to ESPN's coverage of the U.S. Open and British Open golf tournaments and called the play-by-play on ESPN between UConn and Syracuse, which became the longest game in Big East history timing up to 3 hours and 46 minutes.
Sean McDonough's Bio (Age): Family, Siblings
Sean McDonough was born on 13th May 1962 in Boston, Massachusetts, the United States.
He is the son of Will McDonough, a longtime sportswriter for The Boston Globe newspaper. Born in 1935, Will died of a heart attack in 2003, in his birthplace, Boston, Massachusetts.
Also ESPN's Sportscaster: ESPN Chris Fowler Wiki, Married, Wife, Divorce, Salary and Net Worth
Sean has two brothers, Terry (born 1965) and Ryan (born 1979), also with notable roles in professional sports.
Terry is a vice president and player personnel for the NFL's Arizona Cardinals, and Ryan serves as NBA Phoenix Sun's general manager.
Back in September 2017, the three McDonough brothers were profiled by HBO Real Sports. "We live and die with each other's achievements," Sean once told the Arizona Republic, referring to his family, all together.
Also, Sean has two more sisters: Erin McDonough, born 1964, a hospital senior vice president, and Cara McDonough, born 1982, an Under Armour executive.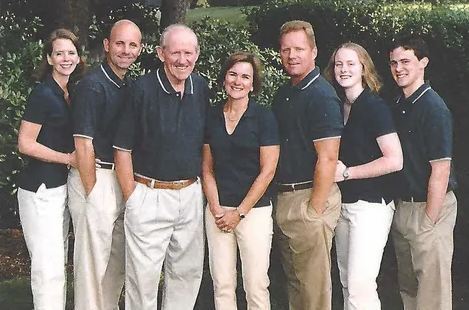 Sean McDonough's family poses prior to Will McDonough's death in 2003; Erin McDonough, SeanMcDonough, Will McDonough, Denise McDonough, Terry McDonough, Cara McDonough, and Ryan McDonough, from left (Photo: gannett-cdn.com)
Their father, Will remarried Denise: Cara, and Ryan's mother, after convincing a judge to grant him sole custody of his three oldest children, Sean, Erin, and Terry from his first wife, Wilma, in 1974.
Education
Sean McDonough graduated cum laude from Syracuse University in 1984. In 2014, he was inducted into the Hall of Fame for the university's non-commercial radio station, where he began his sports broadcasting career as a student.
Net Worth
As per the Celebrity Net Worth reports in May 2016, Sean McDonough's net worth is estimated at $2 million.
More Of ESPN's Contributors: Stan Verrett Married, Wife, Son, Family, Salary, Net Worth, ESPN
Also, last covered by realtor.com on 21st November 2019, Sean had listed his regal ranch house in Scottsdale, Arizona, for $2.5 million.
Back in the days, when Sean and his two brothers, Ryan and Terry turned adults, each had bought homes and settled in the Greater Phoenix area.
More Facts On Sean McDonough
In 2012, he was diagnosed with Superior Canal Dehiscence Syndrome, a rare medical condition that required surgery to repair a hole in the bone near his left ear. Having gone through a successful procedure and recovery, he continues to raise awareness for SCDS.

He has been contributing as a president of the Sean McDonough Charitable Foundation, which has so far given multiple million dollars to children's charities throughout Massachusetts.