If you haven't watched the 2018 Pyeongchang Olympics ice-hockey finale, watch it; if you have already watched it, re-watch it. In a nutshell, the game was full of thrilling incidents; especially the penultimate moment when a woman from the US team scored to make a tie and save the game.
Everyone seems to know the score was from the US but do all know who she is? Well, she is none other than the two times silver medalist, Monique Lamoureux-Morando.
Monique Morando's Bio; Family
The star of US was born on 3 July 1989 in Grand Forks, North Dakota.
29-years-old Monique, who stands at a height of 5 feet 6 inches (1.68 meters), was raised by her parents Jean-Pierre and Linda Lamoureux. In her family, Monique has five siblings: brothers, Jean-Philippe, Jacques, Pierre-Paul and Mario, and a twin sister, Jocelyne, who is also a member of Team USA.
Related: Brian Engblom Married, Wife, Family, Salary, Net Worth
For education, Monique went to the Shattuck-St. Mary's School in Faribault, Minnesota.
Later, she went to the University of North Dakota, from where she graduated with a degree in Kinesiology. Driven by the passion for ice-hockey from her childhood, Monique played for varsity teams during both her high school and college and also earned a handful of awards.
Monique's Career Plus Salary
Although Monique played ice-hockey during her college in a state level, she got the chance to represent the US only after she was selected for the United States Women's Select Team for the 2006 Four Nations Cup, where the team finished in the second position.
Seeing her talent and dedication, the committee selected her, along with her twin sister. The sister-duo played for the United States Women's National Team of 2009 International Ice Hockey Federation World Women's Championship that won the gold medal.
Her success did not seem to cease as Monique won a silver medal in the 2010 and 2012 Olympics, and a gold medal in 2018 Olympics.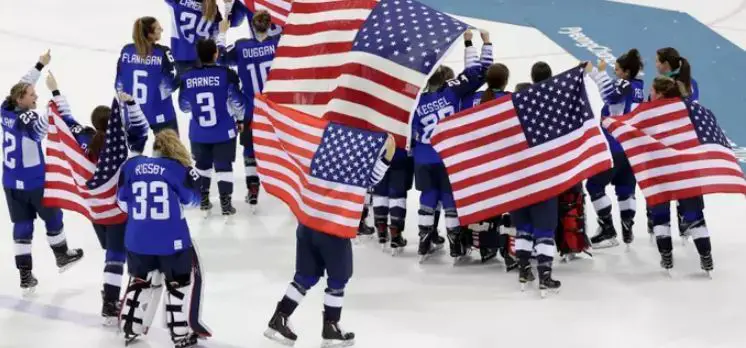 The moment when US Women ice-hockey team wins the gold medal in 2018 Olympics (Source: The Guardian)
Her ice-hockey career has certainly helped her amass a staggering amount of net worth. Although, the precise amount of what Monique earns is not revealed, what is out in the town is that a national ice-hockey player earns an average of $75 thousand annually as salary.
Monique Married, Husband
To all the guys, who had even a bit of crush on Monique, it would be better if you crush that 'crush feeling'. Because your heart may shatter to pieces to hear that Monique is already married. Well, Monique is in a marital voyage with a handsome guy named Anthony Morando.
Interesting: Chuku Modu Wiki, Married, Wife, Height, Parents, Age
In fact, the pair got married two years back on 13 May 2016. The prevalent joy among the newly married couple escalated into a new level when the couple found out that Monique was pregnant.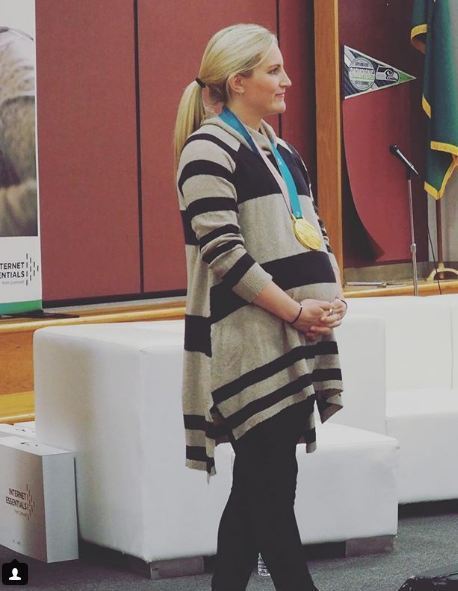 Monique Lamoureux-Morando shares a photo of her being pregnant on 11 October 2018 (Photo: Monique Lamoureux-Morando's Instagram)
On 11 October 2018, Monique even shared a photo of herself and flaunted her baby bump. Well, the most interesting part of Monique's pregnancy is that her twin sister is also expecting a baby.