Street Outlaws' Kye Kelley is one of the known faces when it comes to racing. His name is not only prominent in the South of his hometown but the whole nation. Since he heightened his success by beating the OKC Street Outlaws, he never got a chance to rest.
Everyone wants to race with him. Even Scott Taylor from Mississippi wanted to race him. Everyone aims to prove their worth by racing alongside Kye. So, Kye doesn't forget to maintain his demeanor in the street races by working hard to keep his jet black pro Camaro, The Shocker in perfect shape.
He has been racing ever since he got his license. The racer initially started on dirt bikes. Then, he gradually moved to faster cars. And today, he is the leader of the New Orleans racers from Street Outlaws.
With racers getting more competitive with the passing days, Kye made sure to present his new car, a modernization of The Shocker in 2017. Considering his successful career in racing, it's safe to say that Kye embraces a net worth of millions. His new performance shop in McComb, Mississippi also brings in fortune to add in his net worth.
Girlfriend, Wife / Married
Kye was previously married to his first wife, Alisa Mote. They had a public affair, and it wasn't long before the two got married in 2016. Kye and his wife welcomed their first child together after 7 months into their married life. They named their daughter, Kenadeigh Alexa Kelley. Kye is known to have another child with Alisa, but the details are not loose.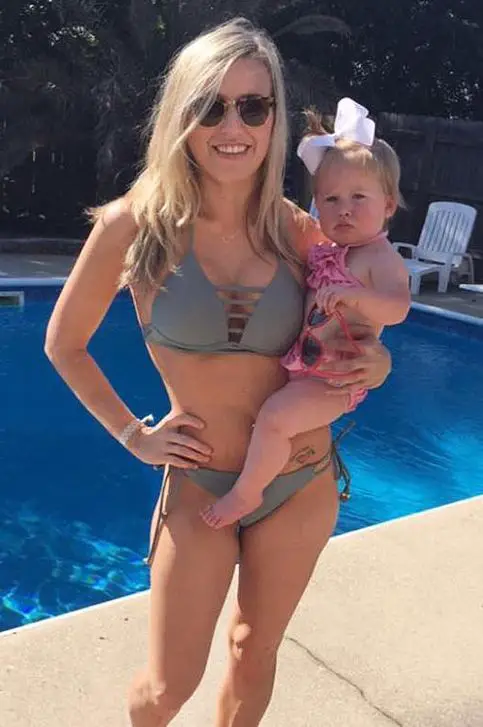 Kye Kelley's ex-wife, Alisa enjoys swimming with daughter, Kenadeigh in 2017 (Photo: Starcasm)
Kye and his wife separated after a year of togetherness. They finalized their divorce in early 2017. And, Kye was quick to move on from the split as he found another love.
Read Also: Corey Bohan Wiki, Net Worth, Affair, Married Life With Audrina Patridge
Some months after Kye parted with his first wife, he announced his dating status with drag racer, Lizzy Musi. There were pre-rumors that he was involved in a romantic relationship; Lizzy made things official in April 2017 after introducing herself as his girlfriend.
Kye Kelley enjoys quality time with girlfriend, Lizzy Musi on 6 December 2018 (Photo: Kye Kelley's Facebook)
Since then, Kye and his girlfriend are not hesitant to flaunt each other's pictures on social media sites. In 2018 Christmas, Lizzy even shared her words of appreciation for the racer; she regarded the year's Christmas as one of her favorites as she got to spend time with Kye's family.
Kye Kelley's Age, Biography 
Born in 1985, Kye celebrates his birthday every 18th May. He is at the age of 33. His bio implies that he was raised in Magnolia, Mississippi. He doesn't hold back to showcase his affection for his family on social media sites.
Check Out: Joe Zolper Married Man With Wife; Family, Net Worth, Age & More
In fact, he even posted a picture of his grandmother on Facebook on her birthday. In the post, he asked his fans to show concern for her after she broke two ribs by falling off the porch.