Born as Kurtis Eugene Warner on 22 June 1971 in Burlington, Iowa, USA, Kurt Warner is a former American football quarterback.
He played for three National Football League teams, the New York Giants, the St. Louis Rams, and the Arizona Cardinals.
Kurt's career began to grow when he played for the St. Louis Rams from 1998 to 2003 and won two NFL MVP awards as well as the Super Bowl MVP award in Super Bowl XXXIV. He also owned the three highest single-game passing yardage totals in Super Bowl history when he led the 2008 Arizona Cardinals to Super Bowl XLIII.
Following a twelve-year career, Kurt officially announced his retirement from the National Football League on 29 January 2010.
Now, Kurt is an NFL network analyst earning an average salary of $75K. And throughout his career in sports, the former football quarterback has accumulated a net worth of $30 million.
Kurt Warner Married To Wife & Children
When Kurt was in his senior year, one of his teammates at the college talked him into going to a country-music club in Cedar Falls, Iowa. That was when Kurt met his wife, Brenda Carney Meoni, a former United States Marine Corps corporal, and both felt an instant connection.
Also Sports Related: Trevor Matich Wife, Age, Net Worth, Family
However, Brenda hesitated to take any further step as she was a single mother of two children, and also because her son Zachary had significant medical problems. Zachary was blinded and brain injured when her first husband, Neil, accidentally dropped him. 
But that didn't stop Kurt's feelings for Brenda, and the couple got married on 11 October 1997, after four years of relationship. 
After getting married, Kurt adopted both of her children, Zachary and Jesse and later had five children together - Kade, Jada Jo, Elijah, and twins Sienna and Sierra.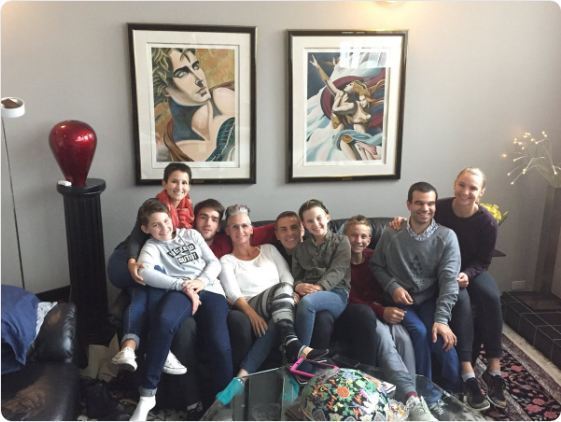 Kurt Warner with his wife and seven children on 3 February 2017 (Photo: Kurt Warner's Twitter)
The couple built a beautiful and robust family together over time, which led Kurt to be well known for his commitment to his family, kids' lifestyle, and his Christian faith. 
The couple even decided to build a house in Arizona called the "Treasure House" to help people dealing with intellectual and developmental disabilities like their older son, Zachary. 
Furthermore, rumors started to surface that Kurt's wife had cancer. Maybe it began since the couple was involved in several charity works and often shared about their struggles. But the rumor of Kurt's wife having cancer is not valid. 
As of now, the couple is happily together with their seven children, and the family manages to spend good quality time together. 
His Bio: Family & College
Talking about his early family life, Kurt was born to Gene Warner and Sue Warner. When he was at the age of six, his parents got divorced, and Kurt started living with his mother along with his brother. 
Don't Miss Out On: Nick Faldo Salary, Net Worth, Wife, Divorce, Bio
Both of his parents remarried after a short while. His father married Mimi Warner who had a son named Matt while his mother got another divorce. 
Although his family life was a little complex, Kurt still managed to develop a good relationship with his biological brother alongside his step-brother. 
Growing up, Kurt found interest in sports at a very young age. He played football at Regis High School in Cedar Rapids and graduated in 1989. After his high school graduation, Kurt attended the University of Northern Iowa.
In his college days, Kurt was third on the Panthers' depth chart until his senior year. Later, he graduated with a degree in Communications in 1993.