Jason Benetti, an ESPN play-by-play announcer, graduated with degrees in Broadcast Journalism, Economics and Psychology from Syracuse University in 2005. He then attended Wake Forest School of Law in 2011 to earn J.D.
Soon after completing his education, in 2011, Jason joined ESPN and worked as a play-by-play announcer for college basketball. From then, he also worked for college football, baseball and lacrosse games including high school football.
His education and experiences helped him shape his personality and the way he viewed the world and his life. At the age of 32, he got his dream job to work as the member of the television broadcast crew for the Chicago White Sox.
ESPN - Salary & Net Worth
The career field that was not accessible to those with disabilities welcomed Jason despite his cerebral palsy. He became a real living example to many differently abled people in the world.
Throughout his journey, fighting socially, mentally, and physically with his disability, Jason made his path proving the people wrong. For those who thought Jason couldn't make it probably got envious of him as he kept getting better at his profession, climbing a new height of success every time. 
Also ESPN Related: Andrew Siciliano Married, Wife, Girlfriend, Gay, Salary, Height, Bio
Furthermore, his success might have only added to the envy as he accumulated quite the net worth through his career. While the exact figure is not known, the average salary of ESPN announcer is estimated at $103K.
Jason Benetti's Bio: Family, Eye Surgery
Jason Benetti was born ten weeks prematurely to his parents, Rob Benetti and Sue Benetti in 1983. He was diagnosed with lung disorder and depended on oxygen machines soon after his birth.
So, Rob and Sue thought that they might not be able to take their son home.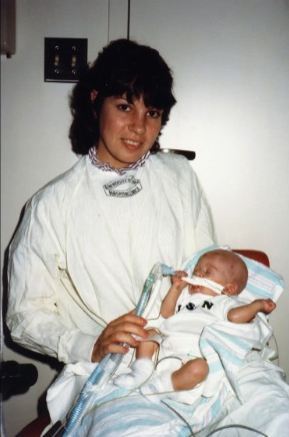 Jason Benetti with his mother Sue Benetti in the hospital in 1983 (Photo: edition.cnn.com)
Also, 40 days before he was born, his father, Rob was caught in an accident that left him injured and disabled for three and a half years of his life.
These two reasons became a changing factor in their life as a family.
After baby Jason spent three months at the University of Chicago Hospital, he was discharged. But, the doctors warned the couple that Jason might be developmentally disabled.
Rob and Jason spent their time together at home after coming out of the hospital. Later, Jason was diagnosed with cerebral palsy, a neurological disorder that affects muscle coordination, movement, and balance. 
Into The Life Of Sports Anchor: Neil Everett Wiki, Bio, Age, Married, Wife, Salary and Net Worth
Due to this, he had to undergo many different surgeries, including eye surgery, heel cord surgery, and hamstring surgery. 
Jason Benetti Married To Wife
Talking about his love life, Jason never opened up to the public to reveal the details. But, on 1 August 2016, he announced the name of his girlfriend on his tweet as "Alberta" and that she lived in Vancouver.
However, it is not confirmed if he is still dating her or not. Also, his busy professional life seems to be keeping his mind occupied as Jason has not revealed whether he plans to get married or not.
His followers might be waiting for him to reveal who his future wife is and when he plans to hold his wedding. But for now, they can only be patient and wait.