James Hinchcliffe is a professional racecar driver who has won the NTT IndyCar Series six times.
Not only that, he has many more titles under his belts as a racecar driver, which includes Greg Moore Legacy Award in 2010, Tony Renna Rising Star Award in 2011, and Honda Grand Prix of St. Petersburg in 2013. 
Besides car racing, James is also a performer who appeared in the 23rd season of Dancing with the Stars (DWTS) in 2016, where he finished in second place.
James' Married Details With Wife, Dating Details
Speaking about James Hinchcliffe's personal life, he has been married to Rebecca Dalton since 3rd August 2019.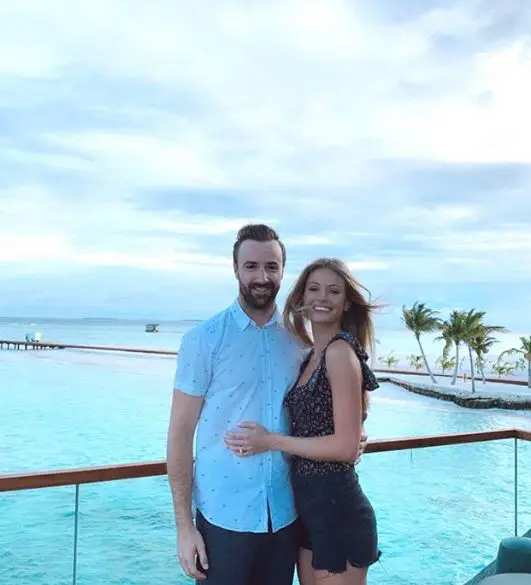 James Hinchcliffe and his wife, Rebecca Dalton, pose for a picture in the Maldives on 18 November 2019 (Photo: Rebecca Dalton's Instagram)
The story of James and Rebecca started very long ago when they were in high school together in 2004, where they even went for a prom-date.
Know More About: Duane Lee Chapman II Bio, Siblings, Son
However, the two moved towards their own dreams after completing high school.
It was in 2015 when Rebecca reached out to James for the first time in 12 years; it was when James had a major accident while practicing for the Indianapolis 500 race. 
Well, after that, the two got along again, and their feelings for each other started to grow slowly and gradually. In that process, they dated as boyfriend and girlfriend for few years before exchanging rings in July 2018.
Who is Rebecca Dalton?
Rebecca Dalton is a movie and televison actress who has appeared in projects like Total Frat Movie, Christmas Wedding Planner, and Christmas in Paris. 
Moreover, the newlywed bride originally belongs to Oakville, Canada. 
James' Age, Net Worth
James Hinchcliffe was born on 5th December 1986 in Oakville, Canada, to Jeremy Hinchcliffe and Arlene Hinchcliffe. 
Moreover, James has not let any of his family information come in public, as he possibly prefers his family to stay away from all the media's cameras.
And, it is important for a celeb like James to do so because all the media and the attention can disturb the daily life of his family. 
However, James' family must be happy even without enjoying the media coverage because James has made them proud of his career. 
Adding to that, he has not only earned fame and respect, but he possibly has earned a decent earning to function a luxurious lifestyle. But, sadly, he has not revealed his overall sum of his net worth. 
You might Like Reading About: Bill Carroll Salary & Net Worth Details! Plus Wife, Daughter
Nevertheless, what is disclosed is that he has earned over $4 million from his 9-year career in NTT IndyCar Series since 2011. Likewise, he received a total salary of $349K from the Indianapolis 500 competition in 2017. 
Furthermore, the 5 feet 9 inches (1.75 meters) tall racer who is also known as 'Mayor of Hinchtown' attended McMaster University in Ontario, Canada.