The most exciting voice in all of sports broadcasting, Gus Johnson is the lead play-by-play announcer for FOX Sports' college football and college basketball coverage. He is also prevalently known for his discourse on football, basketball, and boxing.
Besides that, the legendary and engaging sports commentator became famous for his work with the Big Ten Network after calling thrilling NCAA tournament games.
Gus Johnson's Bio: Career, Salary
Gus was born as Augustus Cornelius Johnson, Jr. on 10 August 1967 in Detroit, MI and is of 51 years of age.
Gushing about his family, his father's name was Augustus Cornelius Johnson, Sr. and, his mother's name was Btroy Johnson. His mother died on 7 June 2014 due to ovarian cancer. The last conversation Gus had with her mother was May 2014 when he was in Lisbon calling the Champions League final between Spanish sides Real Madrid and Atlético Madrid.
Gus attended the University of Detroit Jesuit High School and Academy, where he was an all-league quarterback on the football team and an all-league baseball player as a first baseman and catcher.
See Also: Diana Taurasi Wiki, Married or Boyfriend, Lesbian/Gay and Girlfriend
He then graduated from Howard University in 1990 with a degree in political science, where he played baseball all four years.
After graduation, Gus started his broadcasting career working in local TV at KXXV-TV in Waco, Texas, WXII-TV in Winston-Salem, N.C., WAAY-TV in Huntsville, Ala., and WTTG-TV in Washington, D.C.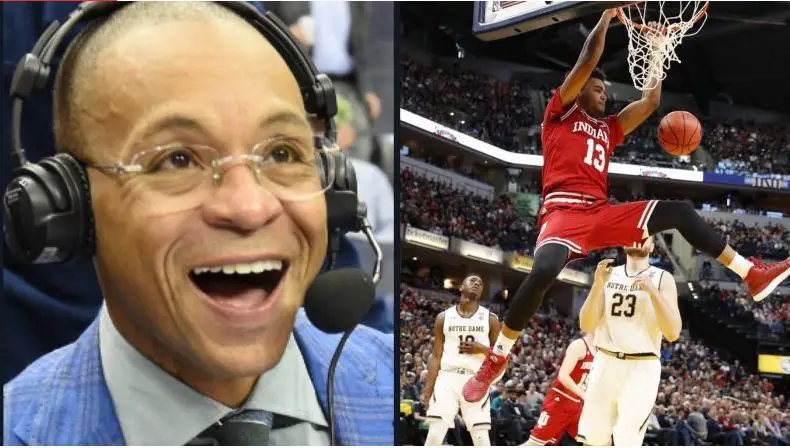 Gus Johnson give his commentary during Indiana-Notre Dame Wild Overtime Finish on 16 December 2017 (Photo: blacksportsonline.com)
After that, he joined ESPN working as the voice for college hockey and college basketball, and for Big East basketball on the Big East Network. In 1991, he also hosted ESPN's 'Black College Sports Today,' where Zubin Mehenti served as the sportscaster.
Later in the year 2009, Gus was named play-by-play announcer for 'Showtime Championship Boxing. He also became the announcer for "CBS EliteXC Saturday Night Fights."
He also did some NFL games for CBS. Gus was one of the CBS's top college basketball play-by-play voices from 1996 to 2011. While at CBS, Gus did play-by-play for NFL games, track and field, college football, the Hambletonian, boxing, and the bobsled and luge events at the 1998 Olympic Winter Games in Nagano, Japan.
After that, Gus joined FOX Sport's in 2011 and served as the lead play-by-play announcer for FOX Sports' college basketball and college football coverage since then while Jenny Taft served as a reporter and host. Gus has also called lent his voice to FOX Sports' coverage of the BIG3 and the Jr. NBA World Championships.
With his success-filled career in sports broadcasting on FOX Sports', Gus Johnson has been able to amass a considerable amount of net worth from his work. His average salary as a Fox Sports announcer is estimated to be $100 K that would range from $88,895 at the 25th percentile to $110,430 at the 75th percentile, with top earners (the top 10%) earning more than $121,754.
Gus Was Once Close To Getting Married!
Being the famous sportscaster, Gus is loved and respected by many people, who are always interested to know about his personal life. However, Gus has always kept his private matters a low-key.
Nevertheless, it is known that Gus was engaged with his girlfriend and had even scheduled their wedding date, i.e., on 1 August 2014. However, it is still unclear whether he married his fiancé or not.
It is only known that, Gus parents a son as a single dad. 
Back on 8 April 2012, Gus shared a tweet regarding his son and wrote his son just asked him, who would win the battle between Captain America and Red Hulk? Gus did not disclose the name of his son but revealed his son' age, stating that he was eight that time.
As of now, Gus appears to be single. Due to the absence of a wife or girlfriend in his life, Gus has been speculated to be gay as well. However, he has not uttered a single word regarding his sexual orientation.