Dream of the most single individual is to get a life partner, who supports in every thick and thin. Enjoying the dream come true is former American football player, Devale Ellis.
While Devale was in college, he had to go through four major surgeries. During that difficult time, his partner, Khadeen was always there to support him mentally and physically. She took full care of him and even assisted him as an academic advisor. A result of that, Devale graduated with 3.2 GPA.
Besides, when he had to move alone to Detroit as required by his NFL career, Devale went through depression as he was without the presence of his caring partner. But, Khadeen supported him despite distance and took him past the situation, which Devale still recalls as his 'dark time.'  
Devale Ellis Basks On Glorious Marital Voyage
Finally, the incredible day of 4 July 2010 brought a new chapter in Devale's life; he shared the wedding vows with the girl, he had been with since his younger days. Walking down the aisle together with upraised emotions, Khadeen Ellis was finally pronounced as Devale Ellis' wife.  
Flashbacking their relationship life, it is without a doubt a match made in heaven.
Devale first met his future-partner while he was a senior in college and Khadeen, then 18, enrolled as a freshman. Massively interested in fashion and modeling, Khadeen was hosting a pageant event at the very time.
Interestingly, she had just won Miss New York and was going through a hectic pageant schedule. So, she reached out to Devale after asking his number to his mother and made things easier for Devale.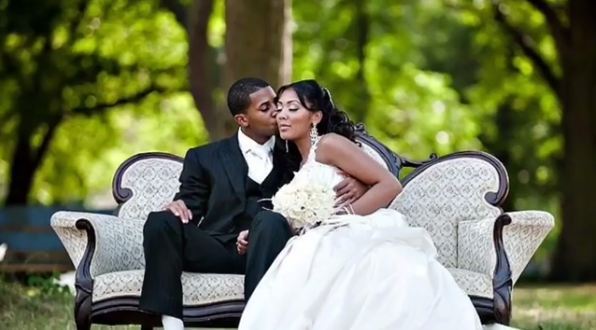 Devale Ellis flaunts wedding moment with wife Khadeen Ellis on eight anniversary on 4 July 2018 (Photo: Devale Ellis's Instagram)
Starting as friends-- to falling in love-- to ending up spending life together, Devale and Khadeen's journey is a perfect example of how a relationship should span out. 
See Also: Corey Bohan Wiki, Net Worth, Affair, Married Life With Audrina Patridge
Devale Parents Three Kids With Wife!
Since sharing the marriage bliss, Devale and Khadeen have had the privilege of welcoming three beautiful kids in their life. The pair has three sons of their own; Jackson Karter (born 2011), Kairo Shakur (born 2016) and Kaz Hendrix (born 2017).
After two of their sons were born, Devale, through his Instagram videos, often wished that the third one be a girl.
Moreover, he stated that he was deprived of the love as his sons were more of mother lovers. Devale sarcastically blamed his partner to have taken both of his boys in her wings.
But even for the third time, things turned in Khadeen's side as she gave birth to a son.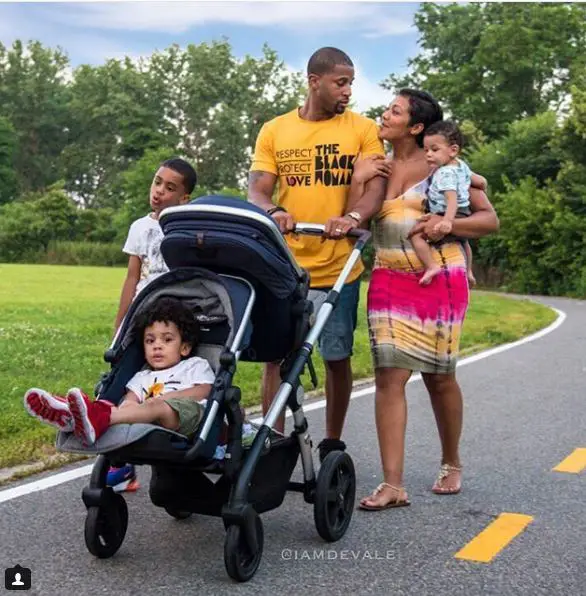 Devale Ellis enjoys perfect family time on 12 August 2018 (Photo: Devale Ellis's Instagram)
On a serious note, the couple is more than happy to be parenting their young and beautiful sons. It was a lovely family take on 12 August 2018, where Devale's Instagram post flashed a tightly-bonded relationship of his sweet family.
With the newborn, more bliss has added in Devale and Khadeen's relationship.
Also Read: Tenzing Norgay Trainor Has Girlfriend Now? Family, Parents, Shirtless, 2018 Status
Devale Ellis' Wiki-Bio
Born in 1984, Devale Ellis, age 34, celebrates his birthday on 2 April every year. He hails from Brooklyn, New York and stands at the tall height of 5 feet and 10 inches (1.78 m) while carrying American nationality.
Devale's parents met at the young age of 11 and 12 on the playground.
Soon they were each other's sweethearts and got married out of high school. Showing his gratitude towards his father, Devale posted an alluring Instagram caption on 18 June 2018, where he thanked his dad for being the foundation of everything he has accomplished.
As of his academics, Devale attended James Madison High School in Brooklyn, New York. During that time, he was much into football and basketball.
Don't Miss: Lesley Visser Married, Divorce, Family, Net Worth
His Net Worth
After receiving much experience from his senior career at Hofstra University, Ellis was signed as a free agent by Detroit Lions.
He played the season opener against Seattle Seahawks. However, his stay at Lions was cut short when the team waived him on 30 August 2008.
Subsequently, he was signed by Cleveland Browns on 31 December 2008 and was waived again on 26 July 2009. Deciding to quit football after that, Devale has partnered with his wife to run a comedy-filled YouTube channel called 'The Ellises.'
The couple amasses the YouTube net worth of around $1.5K to $24.1K per year through their channel.