Bob Menery, who grabbed significant attention for his amazing sports commentary and comedy videos, is a prominent name in American sportscasting. Titled as 'the man with the golden voice,' Menery became an overnight internet sensation for his astounding articulation ability. As a result, he has surpassed 2 million followers on his Instagram as of now. 
Despite his popularity, however, he hasn't been open about his current relationship status. And, whether he is still with his girlfriend, Katie Kearney, remains a bit of a mystery. 
Is Bob Menery Dating?
The sportscaster went public about his relationship with Katie Kearney on February 25, 2019, through his Twitter post. He shared a video of Katie pitching a baseball and wrote, ' meet my girlfriend.'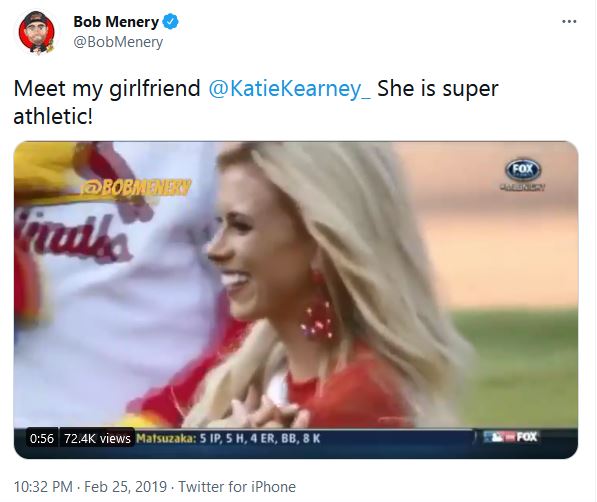 Bob Menery's first tweet about his girlfriend. (Source: Twitter)
Like Menery, Katie also shares similar enthusiasm in sports, who started her career in reporting while at Saint Louis University. 
She has worked in Fox 2 News throughout her career, served as a Travel & Golf editor covering various resorts, destinations, and golf courses, and has hosted PGA championships, fashion shows, and different events. 
Sharing a common interest in sports might have also played a role in their relationship. Very much in love, Menery again took to his social handle to wish her on her birthday and wrote, 
Happy birthday to my beautiful gal @KatieKearney_ ....Words can't describe how much I love you :)
While Menery was on cloud nine posting about his girlfriend on Twitter, Katie took to her social handle and wrote, 'my next boyfriend mustn't have social media...so where do I find him.'
Katie Kearney's Twitter post of 7th March 2019. (Source: Katie's Twitter)
Moreover, Menery's silence about his girlfriend on Twitter might suggest the couple parted their ways long ago. However, they haven't been vocal about it yet. 
Backstory To His Fame and His Net Worth
The story began in 2017 after a random video of him performing his regular sports broadcasting routine went viral. The famous sportscaster, Menery, who has reached the age of thirty-four, was startled when his phone began ringing nonstop the next morning.
Unaware that his video had gone insanely viral, it was surprising to wake up to his continuously buzzing phone. Talking to the Golf, the Boston-native said,
The next day, my phone was like 'bling, bling, bling, bling' and kept blowing up like crazy…and I had witnessed what it was like to go viral on the internet, which was very interesting.  
In response to his viral video, Menery, who became an overnight internet sensation, was approached by several agencies, managers, and newspaper reporters. And ever since, Menery's career hasn't been the same.  
Given his massive success in sportscasting, he must have amassed a hefty chunk of net worth, which, however, remains unrevealed.