Adnan Virk was born on 29 July 1978 in Toronto, Ontario to Zakaria and Taherah Virk who immigrated from Lahore, Pakistan to Toronto in 1972. Adnan holds Canadian nationality and embraces Pakistani-Canadian ethnicity.
He spent most of his formative life in Morven, Ontario and after completion of his high school education, he took Radio and Television Arts at Ryerson University.
Adnan is best known as the ESPN SportsCenter anchor. He was named Sportscaster of the Year by Anokhi Vibe Magazine, and also Favorite Media Personality by the Masala, Mehndi, Masti Organization, which eventually led his career to a prominent height.
Adnan Virk's Salary From ESPN
Adnan first approached ESPN for an interview in 2007. Nonetheless, he was victimized by a hiring freeze and could not be hired despite making a good impression on his interviewers.
Later in June 2009, he made a follow-up call to ESPN, but there was still no opening. To his astonishment, on a particular day in May 2010 he got hired for his dream job.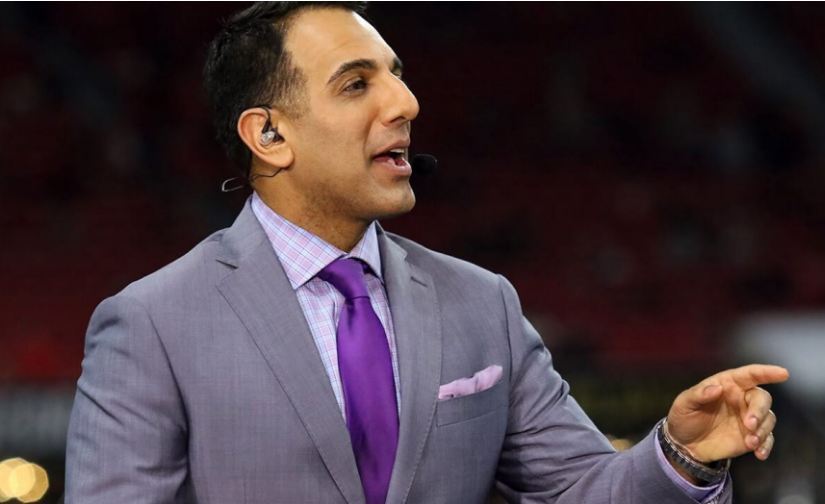 Adnan Virk on the ESPN TV set on 8 January 2018 (Photo: foxnews.com)
He filled in for many roles in the ESPN. He was a host for Basketball Tonight, Studio host for its college football coverage, anchor in the ESPN Radio and also a host for the podcast, Cinephile. 
More From ESPN: Prim Siripipat Married, Husband, Boyfriend, Dating, Wiki, Bio
However, his nine years of the regime came to a halt in February 2019 when he got terminated from his position in the ESPN. He was accused of leaking some confidential information and failing to cooperate with an internal investigation into the accusation. 
Adnan, however never accepted the charges on his dismissal and at some point thought about suing the company for defamatory and injustice. 
It took a while before his lawyers, Wajahat Laiq and Neal Brickman, and the lawyers for ESPN decided to resolve their differences and agree to settlement apt for both parties.
His Net Worth
Adnan commenced his sports-media career with TSN, Canada's national sports network in 1998. In April 2002, he began working for The Score, where he hosted several programs until 2009.
Before ESPN, he was as a reporter and host for Maple Leaf Sports and Entertainment, Raptors TV, NBA TV, Leafs TV, and Gol TV.
After his bittersweet journey in ESPN, he joined DAZN, run by his former ESPN boss, John Skipper, as a baseball host for ChangeUp. DAZN must have promised him a handsome salary.
See Also: Stan Verrett Married, Wife, Son, Family, Salary, Net Worth, ESPN
All in all, Adnan had a busy career. He must have amassed a significant net worth as a reward to his diligence.
Adnan Virk's Wife, Family
Adnan married his wife, Eamon Chaudhry in 2007. Today at the age 40, he resides in Connecticut with his wife and three boys, Yusuf, Adneen and a newborn. He shares a beautiful relation with his small family.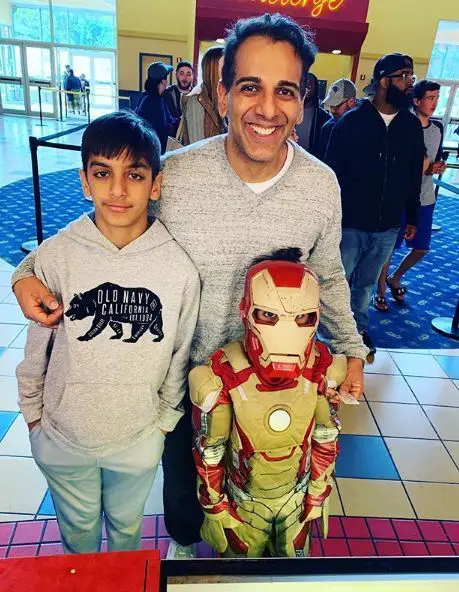 Adnan Virk with his sons, Yusuf, and Adneen at the movie theatre watching Avengers: Endgame on 29 April 2019 (Photo: Adnan Virk's Instagram)
He chooses to keep his family away from the media-eyes. So, details on his personal life remain hidden.
However, on special occasions like birthdays and other family events, he flaunts his beautiful family, especially his kids on Twitter and Instagram.