If you are a music lover, then you must be familiar with the musician, Reggie Watts. His talents are as versatile as it can be under his profession as a beatboxer, comedian and an actor.
He was born in Germany on March 23, 1972. Currently, he is at the age of 46 and stands at a height of 6 feet (1.83 meters). Interestingly, Reggie is the only child of his parents, Christiane and Charles Alphonso Watts. His father is Afro-American while his mother is French.
Talking about his education, the actor graduated in 1990 from Great Falls High School, which is located in Great Falls, Montana. He also attended Cornish College of the arts to learn Jazz.
Reggie With Girlfriend Or Wife? Lost Virginity At The Age Of 20
Well, Reggie is currently unmarried. But, he appears to be in a dating relationship with a ballet dancer, Andrea Feyler. Though the couple has not officiated their affair until now, their bliss of togetherness is reflected from their social media. 
For instance, on 29 May 2017, Reggie Instagrammed a picture with his possible girlfriend, Andrea.
Further, Reggie's post from 31 July 2018 saw the couple enjoying at the Big Sur, California. They also relished their time together at the Marciano Art Foundation on 13 August 2018. 
Must Read: Emma Chamberlain Age & Parents Details; Plus Height, Net Worth, Family, Boyfriend
In fact, the duo's Instagram is feed is covered with each other's update. But, they never hint anything on their affair in the captions. So, it is hard to state if Andrea is the one, Reggie is planning to get married with and quote as his wife. 
Though Reggie has not opened about his current love life, he has always shared about his past. He had even posted the picture of his first girlfriend in his Twitter back on 24 December 2012.
Moreover, in an interview with Vice on 2 April 2014, Reggie revealed that he lost his virginity to his girlfriend at the age of 20.
How Did He Lose Weight?
The credit to the weight loss of Reggie goes to his sole motivation, regular exercise and also a diet plan. 
Actually, the primary motive for his journey was to feel sexier in The Late Late Show with James Corden in 2014. Besides the show, he wanted to lose weight due to peer pressure.
For instance, in an interview with Men's Journal, he confessed that seeing Ron Funches on Instagram, flipping the tires and slapping the battle ropes, forced his ego to join the fitness training.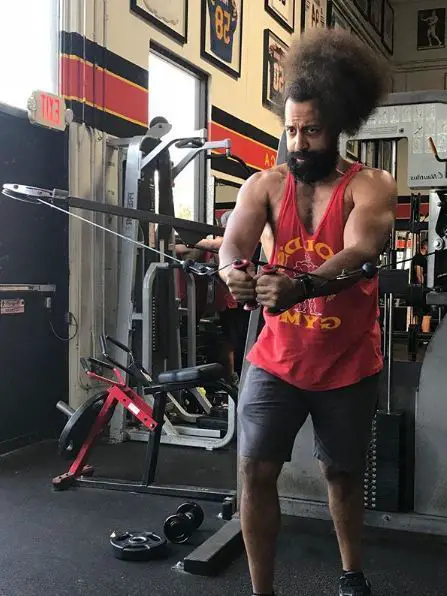 Reggie Watts trains at the Gym on 25 March 2018 (Photo: Reggie's Instagram)
As a result, he hired a trainer named Jorgen de Mey, and after some days of training, he got used to the basic moves.
Interestingly, on 8 May 2018, Reggie revealed his diet plan in an interview with GQ. He disclosed that he takes a shake, created by his trainer for breakfast. Also, he shared out the shake recipe to his readers.
See Also: Is Stewart Francis Married? Who Is His Wife? Height, Family & Facts
Reggie, today, has undoubtedly lost much weight with his diet plans and consciousness for health.
He also started having food delivered by a company called Kore Kitchen whose meals are simple baked chicken with steamed broccoli, cod with wilted spinach. 
Reggie's Net Worth
He initiated his career as a musician in 1996. He then recorded five albums over eight years. His first solo song was titled So Beautiful. Afterward, he went on to join the comedy world. 
During CBS's The Late Show, Reggie and James Corden starred in their twist on Jordan Peele's horror film Us in a parody called We. The clip opened with Reggie and James and the parody took a spooky turn when a bodiless hand was shown stirring a cup of tea. 
However, later James realizes that Reggie was not on the set and the host quickly found his bandleader on the roof. Then, Reggie mentioned that he just went to talk to the creepy guy. But later the two creepy guys revealed themselves and they are none other than James and Reggie. 
Through his appearance, he has gained many fan's attention and he enjoys making other people happy. 
Reggie got his big break when he appeared on IFC series Comedy Bang! Bang!. With his hard work and dedication as a comedian, musician and an actor, Reggie has already amassed a net worth of $2 million.