Mike Yung is an American personality who became famous and got highly praised after his cover video Righteous Brothers' Unchained Melody got viral in 2016. His video even crossed the landmark of one million views in a matter of time.
After that, he used his talent on the stage of the popular American show named America's Got Talent (AGT). Fortunately, he reached the semifinals of the season 12 of America's Got Talent, but, got eliminated thereafter.
Despite that, he again tried at America's Got Talent: The Champions 2 but was again eliminated in the Preliminaries.
Before going into America's Got Talent, he used to sing different types of songs in the subways.
Wiki: Age Plus Family
Mike Yung was born on the 15th of November 1959 in the United States as Michael Young. He has a birth sign of Scorpio.
Have A Look At: Briana Buckmaster Wiki: Age, Husband, Married
He was raised in Brownsville, Brooklyn area, New York City by his parents and is very close with his family members. However, he didn't have enough money to fulfill their needs.
His financial condition eventually resulted in August 2017, as he had to use Go Fund Me to save his family's house from being sold.
Mike Yung's Married Life: Wife, Children
Mike Yung was once married to his long-time partner named Lydia. Blessing their marital life, they were even blessed with children.
Unfortunately, his wife Lydia was reported dead in 2018.
His Path To Fame, Career & Now
Mike Yung used to love singing from his early age. He used to sing at different places in his teenage years. Later, his talent was found, and he was signed by RCA and CBS, which landed him to the hit label named T-Electric.
However, T-Electric got broke, and his chance to release his first album buried down. Following that incident, he found a new way to support his family—singing in the subways and around 23rd and Sixth Avenue.
He carried the same routine for more than 37 years until someone recorded his video and uploaded it on Youtube—it went viral.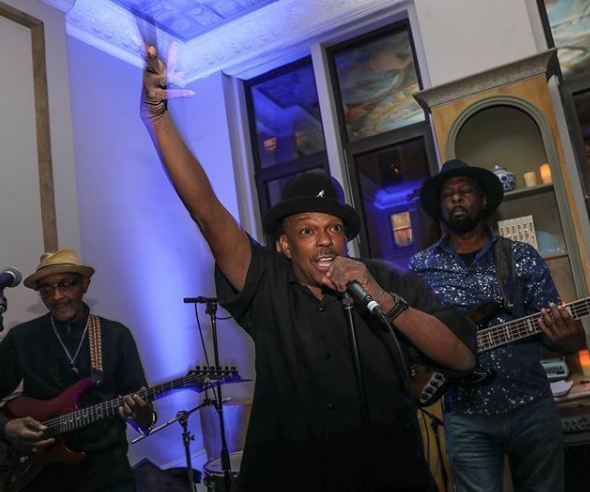 Mike Yung performing at a party on 9 February 2019 (Photo: Mike Yung's Instagram)
On 12 January 2018, he released a music video named Alright. Afterward, on 2nd March 2018, he asked for some financial help for his upcoming project and successfully collected $90,000. He even went on a tour named Never Give Up Tour on 28 July 2018.
After he got some limelight, his hope of re-releasing his debut album rise; however, he lost all of his hope after he lost his life partner, Lydia.
Worth A Read: Tom Bernthal Engaged To Sheryl Sandberg! Their Relationship Details
Nonetheless, making her death a motivation, he collaborated with a Dutch DJ/producer named Martin Garrix and released a song named Dreamer. The song was released on 1st November 2018, and through it, Mike even gave a tribute to his late wife.
As of now, he is being prepared to release his debut album entitled I Will Never Give Up in 2020.