Briana Buckmaster is a Canadian actress, who earned the spotlight through her roles in numerous stage performances, TV shows, and TV movies as well. She first came into the limelight after she began to appear regularly from 2014 as Donna Hanscum / Sheriff Donna Hanscum in the TV series Supernatural. She continued to play the character till 2019.
Likewise, she is also a singer, writer, and voice-over artist. As a writer, she has written 25 episodes of the 2015's TV series White Ninja, Tunnels of Little Chicago, and Lady Fartlek Productions.
For her performance in the TV series Supernatural, she has even won an award in 2015's Leo Awards and got nominated twice at 2015's UBCP/ACTRA Awards, Vancouver, and 2019's Leo Awards. She has also won the Elizabeth Sterling Haynes Award for her numerous productions with Teatro La Quindicina.
Wiki: Age & Birthday
Briana Buckmaster stands at a height of 5 feet 6 inches (1.68 meters).
She was born on 16 July 1982 in Moose Jaw, a city in southern Saskatchewan, Canada. She has studied at the prestigious Grant MacEwan University and graduated with a diploma in Theatre Arts.
Briana Buckmaster's Married Life
Briana Buckmaster is married to Jose Rosales-Lopez. Jose is a chef and an owner of a Vancouver based conscious events center named The Dharma Temple.
They first met in mid-2008 while she was serving, and Jose was cooking in the upscale bistro owned by their mutual friend Jamie Kennedy.
Also An Actress: Meta Golding Bio: Age, Family, Ethnicity, Dating Status
They took a further step after some years and shared the wedding vows in 2010. After their wedding, the couple got blessed with their first child, a daughter named Valentina, on 13 April 2014.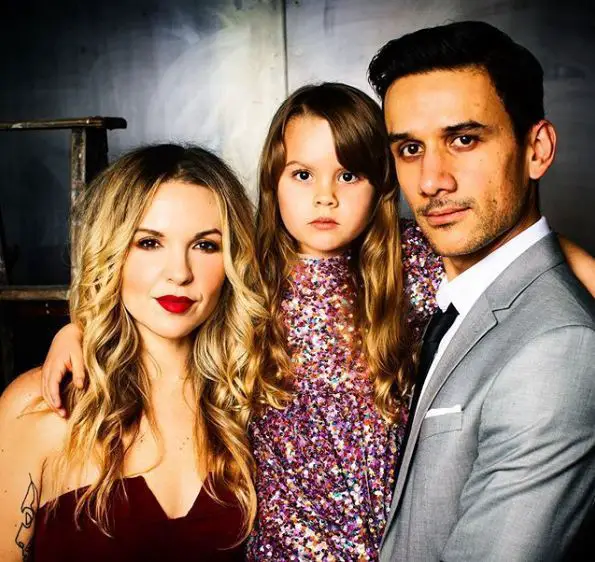 Briana Buckmaster with her husband, Jose Rosales-Lopez and her daughter on 1 January 2020 (Photo: Briana Buckmaster's Instagram)
As of now, the family of three resides in Vancouver, Canada.
Movies & TV Shows
Briana Buckmaster debuted in the film industry in 2003 as she got the role of Neophite Bridesmaid in the movie Turnbuckle. After that, she played in a 2004's short movie entitled My Pet Cowboy. Four years later, she appeared in the film Repo! The Genetic Opera as Sherrie Alviso. Afterward, she became unstoppable.
Till 2020, she has made her appearances in various types of movies and TV shows. Some of her acting credits include 2013's Baby Sellers (TV Movie), 2014's Continuum (TV Series), 2016's Homeowner (Short Movie), 2017's Devil in the Dark (Movie), 2017's Frequency (TV Series), 2018-19's Chip and Potato (TV Series), and 2019's Mama Bear (Short Movie).
Have A Look At This Celebrity: Lady Kitty Spencer Bio: Family & Personal Life Details
As of now, Briana is fully prepared to portray the role of Fretta Van Dango in her upcoming TV series titled Dorg Van Dango (pre-production).
Some Interesting Facts About Briana Buckmaster
Her hair color is blonde, and her eye color is brown.

Once, she was the owner and operator of the award-winning food truck business based in Vancouver, Canada.

Her husband, Jose, celebrates his birthday on 12 March every year. On 12 March 2019, Briana even wished him on his 34th birthday, through an Instagram post, with a very long caption.

Her husband, Jose, is of Mexican descent.

On 2 May 2016, she and her husband celebrated their anniversary.

On 13 April 2015, she celebrated her daughter's first birthday.

Both of her parents are retired farmers who had studied at journalism school. She also has twin brothers.

No one from her family members is involved in the acting sector except Briana.

Her written play, Tunnels of Little Chicago, is regarded as one of the popular plays. For it, she had to tour across Western Canada.

Till now, she is a part of the production company named Teatro La Quindicina.

She has worked with some of the renowned theatre companies, which include the Canadian Comedy Award-winning theatre, Die Nasty.