K. Michelle is a famous American R&B singer, television personality, and songwriter. She is known for her charted singles, "Fakin' It" and "Can't Do This." Furthermore, she is known for her appearance in Love and Hip Hop: Atlanta.
If the name doesn't ring any bell, here are some wikis on K. Michelle's son from her previous married life, her new boyfriend, and her immense net worth
K. Michelle Married Or Dating New Boyfriend?
Kimberly Michelle Pate also K. Michelle's love life went through some pretty rough patches. She is not married but has a son named Chase Bowman. Kimberly never revealed any details on Chase's father at first but soon introduced Chase's father, Brian Bowman on an episode of her series, K Michelle: My Life Surprising, which shocked her fans and the public.
Brian and Kimberly broke up after she found that he was cheating on her with a sorority sister while they were together. On the show, Kimberly stated how reconnecting with Brian was growing for her. As of now, the two bear a good relationship, and Kimberly even lets Chase go over to his father's during holidays.
It didn't take long for Kimberly to find love again. She soon introduced her boyfriend, Dr. Kastan Sims, which was a huge surprise for her fans as he and Kimberly were in different fields.
Don't Miss: Kimbella Vanderhee Wiki: Married Life, Husband, Kids & More
Kimberly and Kastan first got to know each other during their high school days; they have been friends for over 19 years. Kastan had a crush on Kimberly from the beginning and finally asked her out, which led them to start dating in January 2017.
The couple got engaged very soon and even revealed that they were trying to have a baby together. Kimberly, who was worried if she couldn't be able to give birth got good news from the doctor that she would able to give birth and didn't need a surrogate. This was great news for Kimberly and her husband-to-be.
However, the talks died down pretty soon after Kimberly didn't mention anything regarding her pregnancy or fiance.
There are no signs of pregnancy till date, and she hasn't made any appearances with her fiance which has made the public doubt if they have broken up already. Not surprisingly, Kimberly has not revealed anything about her relationship status.
K. Michelle Net Worth
Kimberly started her career in the music industry in 2009 with the release of her first single, Fakin It, which became a huge hit. She then went on to release Fallin, I Just Can't Do This, and How Many Times, which got on the top of the charts.
Kimberly has also released many albums including Anybody Wanna Buy a Heart?, More Issues Than Vogue, The People I Used To Know and many more. 
Since the beginning of her career, Kimberly has been able to leave a prominent mark on the music industry which has helped her gain whopping net worth of $6 million at the age of 34.
K. Michelle's Surgery Backfires!
Kimberly, who got butt injections to reach a full hip and butt had to get surgery to remove the botched "black market" silicone butt injections. After hearing about a man in Atlanta, who offered to inject her butt and hips with silicone, she got her butt pumped with hydrogel injections too.
See Also: Masika Kalysha Baby Details | Bio: Net Worth, Age, Parents Info
The injections hadn't done any harm for five years when Kimberly began to experience fatigue, back, leg pain, and migraines. Later, the doctors found out that the silicone had spread down her legs, damaging her tissue and threatening her overall health, which led Kimberly to take around four surgeries to take out remove the silicone.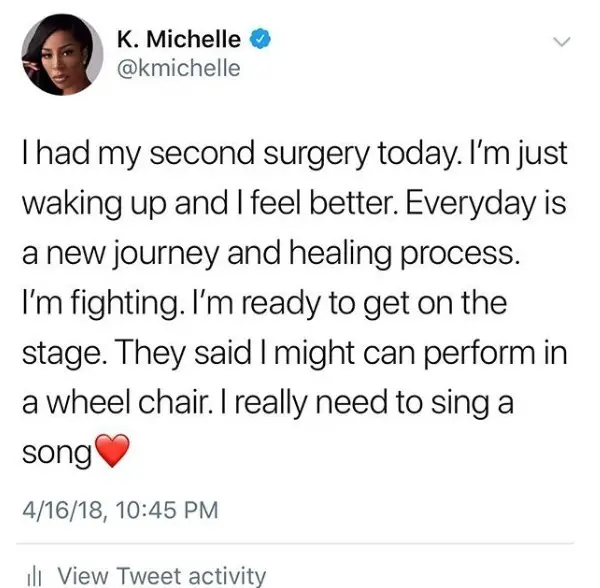 Kimberly Michelle takes on Twitter to talk about her successful surgery on 16 April 2018 (Photo: Kimberly Michelle's Instagram) 
Kimberly is now much healthier and better than before. She encourages people to love their natural body and appreciate every little flaw of theirs.