The path to fame and success was never easy for Jeremiah Lloyd Harmon. Jeremiah is one of the strongest contestants of the season 17 of American Idol, known for his impressive vocals and songwriting ability.
The musical show front-runner, now at the age of 26 has already captivated a large number of audiences by his inspiring story.
Jeremiah Lloyd Harmon's Wiki/Bio & Career
Jeremiah grew up in a religious family in Catonsville, Maryland. The 26-year-old worked as a janitor in his family church before participating in American Idol. 
During the early days of his career, Jeremiah performed at the Lynchstock Music Festival, a nightclub in Virginia for three consecutive years. Before his Idol audition, he released a single called 'Learn to Love.'
Worth Looking For: Liane V Age, Engaged, Boyfriend, Dating, Net Worth, Height, And Family
Everything was going well until he told his family about his being gay, they were not accepting, and he chose to stay away from his family. The whole process has been a struggle for him. He shared his experiences of how difficult it was for him when his loved ones were not acceptable for who he was.
Family: Jeremiah Lloyd Harmon posted a picture of him together with his father on 26 March 2019 (Photo: Jeremiah Lloyd Harmon's Instagram)
However, he is not entirely alienated from his family. The timely differences made him stay away from his family. Jeremiah said that they still loved each other no matter what. He is always thankful towards his parents for raising him to become the idol today.
American Idol Fame / Being Gay
Jeremiah with his unique voice sang the original 'Almost Heaven' for his audition in New York and enticed all the judges right from the start. He performed many beautiful songs, but the song that changed everything was the one he sang dedicating to his parents, 'Landslide' by Fleetwood Mac. The song won him many hearts.
He sang 'We all fall in love sometimes' and won the shout from the legend, Elton John, who said, "Took my breath away."
His journey so far in the American Idol has become magical. He received overwhelming emotional support from Katy Perry as well.
Currently, he has secured himself in Top 14 alongside Laci Kaye and Laine Hardy and is looking forward to winning the show so that he can be the first gay American Idol. 
He is one of the few, who chose to come open about his homosexuality in a TV show and the courageous step has indeed been a plus point in paving a height for his career.
Jeremiah's Personal Life: Boyfriend
Jeremiah has been dating his boyfriend, John Keister for over a year now.
It all started in the YMCA Kingsville one night when Jeremiah recognized John from matching with him on Tinder a year prior. He then boldly approached for John's contact number, and they ended up having dinner together. They have been together ever since.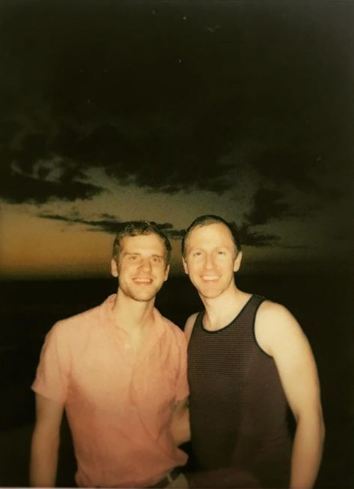 With Bae: Jeremiah Lloyd Harmon and his Boyfriend, John Keister enjoying a date night at the beach on 25 January (Photo: Jeremiah Lloyd Harmon's Instagram)
They were meant to happen. The pair have a lot in common. Like him, John shares a great passion for music and comes from a religious background.
Recommended: Ricky García Wiki, Girlfriend, Siblings, Family
During the American Idol days when his family could not be there for him, John was always there for Jeremiah, proving himself to be a caring and supportive partner. As for now, more details on his personal life is yet to come around.