Most of the people around the world know Dennis Graham as the father of one of the most popular music artists, Drake. But, he is much more than that.
Dennis himself was a drummer for the legendary rock'n' roll star, Jerry Lee Lewis. Dennis has featured in many of the music videos of his son Drake and the Canadian band, The Arkells. 
Debunking all the rumors about the tumultuous relationship between Dennis and his superstar son Drake, Dennis has disclosed that they share an excellent bond which has no flaws. Dennis is a very proud father and is enjoying a vicarious pleasure through his son's life! 
Dennis Graham Wiki, Age & Nationality
Dennis's biography reveals that he celebrates his birthday on 20 September every year. He is hesitant to tell his age; however, it was disclosed that he was born and raised in Memphis. Dennis is a patriot of his origin and talks about the places in Memphis proudly and how different it is from other cities like New York and LA.
Dennis' mother was a nurse and a music lover, who was usually at home listening to music. That is probably how Dennis fell in love with music- through his mom. Dennis was not very close to his dad as he was to his mom, but he respected and loved his dad as much as he did his mother.
You May Also Know: Young Lyric Pregnant At Age 17? Boyfriend Whereabouts And Parents
Dennis grew up alongside his brother, Larry Graham, a legendary funk bassist. Dennis was also hugely inspired by his uncle Willie Mitchell, a renowned Memphis music producer, and cousin Teenie Hodges, who was a guitarist and songwriter for Al Green.
Raised in a family of music artists, Dennis followed their footsteps and landed in the industry in no time.
Dennis is currently on the height of his career and is planning to release his song, That On That. Dennis revealed that he had written the song long ago in the presence of his brother and cousin, and even Drake was a great fan! 
Self-taught pianist and drummer, Dennis Graham has undoubtedly amassed a hefty amount of net worth. He also shares his millionaire son's $140 million net worth.
Dennis Graham Wife, Married
Dennis Graham had many women in his life as his charm made him irrestible around women. He found love for the first time when he was just eighteen and playing piano at the Holiday Inn Rivermont in Memphis, Tennesse.
His girlfriend, Virginia, was a waitress at the inn, but they both moved to Los Angeles to pursue their career and got married. She was Dennis' first wife; Dennis never revealed anything about the divorce.
When he moved to Toronto, Canada with Jerry Lewis, Dennis met a Jewish woman named Sandi, who was a bartender. They met at the bar where she worked, fell in love and got married in 1985. In the next year, Drake was born in October. 
Read Also: Adonis Graham Wiki, Age, Family, Mother
Despite sharing a child, Dennis and his wife Sandi could not sort out their difference and split up when Drake was five. Because Drake was born in Canada, his nationality is Canadian, unlike Dennis', who is an American.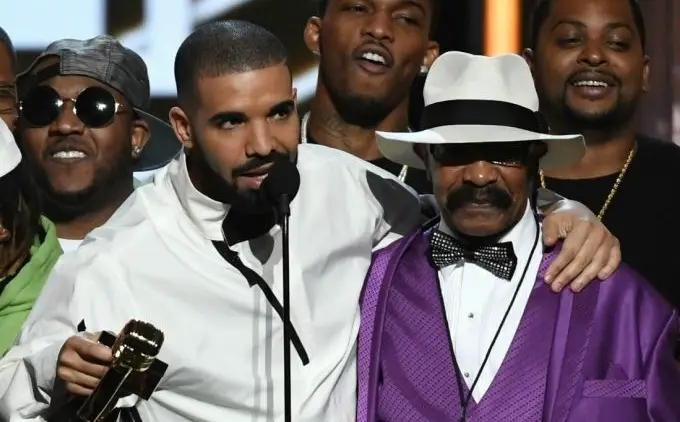 Dennis Graham attends Billboard Music Awards with his son Drake on 21 May 2017 (Photo: thegrio.com)
However, not many know that Dennis has other children except for Drake. In an interview, Dennis revealed that he was a father to two more of Drake's half-siblings- one from his high school sweetheart, and a daughter after he and his wife split up.
Dennis is also a grandfather to Drake's son, Adonis Mahbed Graham, who is currently one year old.
Even though Dennis was rumored to be single, he was seen with four women in Delilah Nightclub in February 2019. He was spotted leaving with the women of different races- a Black, White, Latino, and an Exotical. Though not much is known, it can be assured that Dennis still has the charm that ladies can't resist!