Adonis Graham enjoys media attention even though he is just a toddler. At the mere age of one, he is one of the most searched names on the Internet, and there are very few people who haven't heard his name.
Adonis's father Drake, who is a famous rapper and singer, did not confirm paternity for a long time because he did not want his son exposed to the media at such a young age. However, later, he confirmed that Adonis was his son, and that was how Adonis gained everybody's attention.
Adonis Graham Wiki, Age
7Adonis Graham celebrates his birthday on 11 October every year. Just like his famous rapper father Drake, Adonis' wiki reveals that he was also born in October, but in the year 2017. Adonis' mother Sophie Brussaux, who stands at the height of 5 feet 7 inches (1.75 meters) is a former adult film star, who currently works as an artist.
Adonis' middle name is Mahbed, which caused a lot of media sensation as it seemed like Drake's famous song lyrics "I only love Mahbed, and my mom" could have been easily mistaken for "I only love my bed and my mom!"
See Also: Young Lyric Pregnant At Age 17? Boyfriend Whereabouts And Parents
According to the wiki sites, Adonis has not spent a lot of time with his father, and this has caused many media to report that Drake is not a good dad.
However, Drake debunked the rumors as he hired a jet to fly Adonis and Sophie so that they could be together on Christmas holidays.
Though Drake has not spent a lot of time with his son, his son loves him dearly. Adonis is just a toddler, but the interaction between him and his father is beautiful. 
During an interview with People, Drake opened up about being a father. He said he learned a lot of things about parenting from his father and his mother taught him to be patient, showing unconditional love. 
The same thing he learned from his parents, he is transferring to his son. He is a proud father and a very responsible father.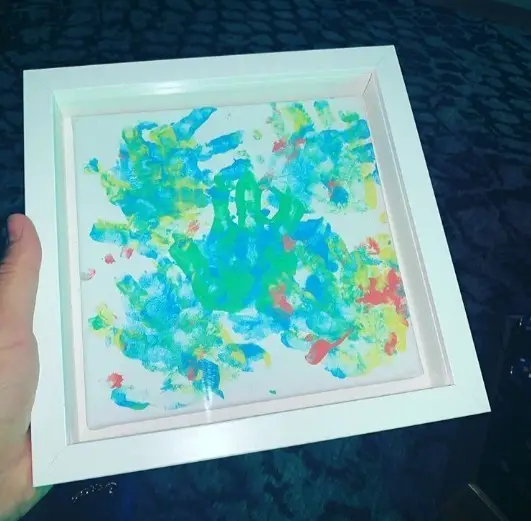 Adonis Graham gifts his father a handmade painting on 26 December 2018 (Photo: Drake's Instagram)
Adonis is undoubtedly close to his father, and Drake is very proud of his son. At one year of age, Adonis is a familiar face in Drake's Instagram, and fans cannot stop adoring the father-son love!
Adonis Graham's Parents' Story
Adonis's father Drake and mother Sophie, were never in love. So, Adonis's family is not like that of everyone else's.
In January 2017, Drake and Sophie were spotted several times in dinner dates in Amsterdam, but they never disclosed thier relationship publicly. Probably, the relationship never grew up to become severe enough to be publicized.
It was later disclosed that Drake wanted Sophie to abort the child when he first heard that she was pregnant. The rumors also spread that he did not believe that Adonis was his son until and unless a paternity test confirmed it.
Read Also: Ed Lover Married, Wife, Divorce, Daughter, Net Worth, Bio
However, Drake has a different story to tell. According to him, there never was a paternity test, and he loved his son more than anything in the world. He also added that he only hid Adonis's identity for his own betterment.
Drake has talked about his son more than once in his songs, which reveals that he is madly in love with his son. Drake also told in an interview that he could not wait for his son to grow up and explain everything about Drake and Susan's relationship. 
Drake has been through a lot, and once again he was surrounded by rumors when he posted a shirtless picture on his Instagram account. 
One of his friends, Carnage, commented on his photo, saying Drake got a fake ab surgery in Colombia and was fooling people with his phony ab. 
However, Drake has not addressed the rumors further and has stayed quiet.