The 14-year-old Benicio Bryant is a young singer who received impressive global attention as America's Got Talent's star judge Simon Cowell compared him to the One Direction heartthrob, Harry Styles.
Benicio performed Brandi Carlie's 'The Joke' and took away everyone's breath right from the AGT's earlier audition days as he received four big "Yeses."
Having done well in the Judge Cuts round, the shy Maple Valley teen got sent to the Quarterfinals.
Meanwhile, today, his fans and followers impatiently await for his more stage acts, as they pray for his 2019's winning. Although, he has experienced a few wins in the past. 
Impressed by his regular uploads of acoustic cover and live performances, Benicio got discovered by The Voice Kids in Germany.
More From AGT: Celine Tam Wiki, Age, Birthday, Parents
The show recruited him to sing on the show, and, eventually, he finished second in the competition, with each act, leaving the german judges and audiences completely dumbfounded.
Benicio Bryant's Bio, Parents 
Benicio, a student at Summit Trail Middle School, got lucky to have Marlo and Jeremy Bryant as his parents. 
The high-school sweethearts who grew up in Rainier Beach always encouraged their son's musical career. 
The pair cited how much of nerve-racking it is to see their child perform in front of the whole world, especially at the time of the finals.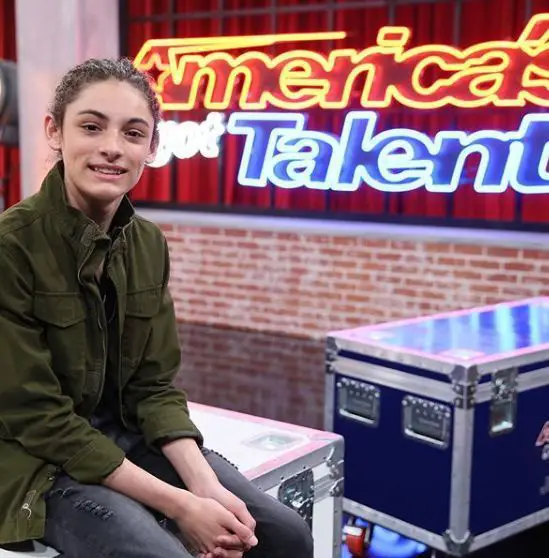 Benicio Bryant as he poses in-between his AGT performance on 6 August 2019 (Photo: Benicio Bryant's Instagram) 
Benicio more often gets referred to as "Beni." As he blew the 8th candle to his birthday, he was convinced that it was music he wanted to do for the rest of his life.
Not being good at Math or having an interest in anything else, did not depress him; instead, he was surer of his call for music.
Is Benicio A Boy Or Girl?
The YouTube sensation and the star from America's Got Talent has created confusion over the gender of the rising talent.
Benicio, who has been blessed with a soulful voice, appears in the stage with cute boy looks along with long curly hairs like a girl.
Thus, the appearance of the young star may be the reason which brings confusion among a few fans and unable to distinguish whether the singing star is a boy or a girl.
Peek Into The Life Of: Carina Round Bio, Age, Husband, Net Worth
But the fact is, Benicio is a boy and there is no point pulling your hair out of confusion. Moreover, those who are up and close with Benicio's personal life are already familiar with this fact.
Facts
Benicio made his television debut on the Late Night with Seth Meyers in 2018 as he performed the cover for his all-time favorite, Brandi Carlie's 'The Joke' with Brandi itself. The emotionally blazing act resulted in a standing ovation from the crowd. All Brandi- the third-time Grammy Award-winning singer-songwriter and producer, had to say was, 
Benicio understands this song on a level I can only imagine. When he sings it, it comes to life in a new way for me. He won't be 13 forever and he knows how it ends.
He has over 33K subscribers on his YouTube channel, where he regularly uploads his favorite covers as well as live performances.

He cites legends like Lady Gaga, Salena, and Sia as his musical influences, and the music he does is more oriented to pop, R&B, and soul genre.

On 18th November 2018, Benicio released his debut single, 'My Love' on iTunes.

He secured second place in Germany's Singing Competition 'The Voice Kids' which was a fun experience according to Benicio.