All you require to excel your profession is the understanding of yourself; sounds confusing, but it is true. When you're into doing something as a daily dose of work, there's some connection needed between you and your work that boosts your strength and creativity into it.
Alejandro Aranda, who worked as a dishwasher most of his life, discovered the musician in himself after he attended the concert of the band, "Backtrack." He was so much taken by the depth of music, that he decided to give his life in making music.
Today, Alejandro, who has more than 450K followers on Instagram, is known by his stage name, "ScaryPoolParty." The name came into being after Alejandro attended a pool party that made him decide that his future ultimately lied in music.
Alejandro Aranda American Idol
Alejandro entered the audition round of the 17th season of American Idol with a bang. He performed the song, Out Loud, which was his original song. The song, which is already a Spotify chartbuster, is about his experiences growing up. He played it on a guitar and explained the song to be about his younger times when he didn't speak the truth.
You May Also Like: Jessica Matten Bio: Age, Birthday To Married Status, Boyfriend, Dating & Height
Also, Alejandro also played his other original, Cholo Love. This time, he played it on piano, leaving the judges stunned. Without a doubt, all three of the judges passed him amazing comments and welcomed him to the show with the Golden ticket to Hollywood.
Further, Alejandro performed Justin Bieber's Sorry added by his final solo performance on his original song called Ten Years, in the Hollywood round. Again, in the Hawaii round, Alejandro amazed the judges with his performance in Coldplay's Yellow, which got him the ticket to semi-finals.
For the position of Top 20 finalist, he performed Post Malone's I Fall Apart, and Ben Harper's There is a light. For the duet, he was joined by Ben Harper himself to perform The Blind Boys of Alabama.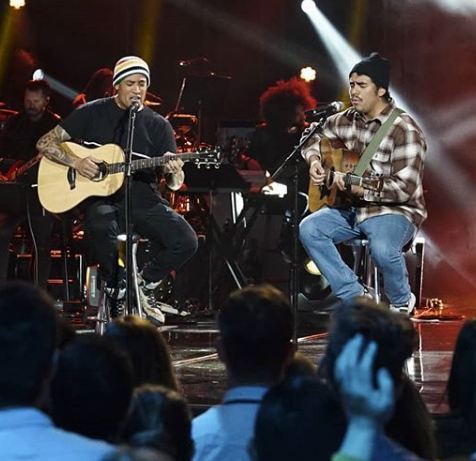 Alejandro Aranda performs with Ben Harper on the stage of American Idol broadcasted on 8 April 2019 (Photo: Alejandro Aranda's Instagram)
Alejandro's performance of One Dance by Drake added by the reprise version of his original, Cholo Love was enough for judges to select him to top 10 finalists list from top 14.
Alejandro is now in the list of top 10 finalists and has performed Remember Me by Natalia Lafourcade & Miguel from Coco, for his selection to the next round. His performances, votes, and fans are all active enough to consider him safe and promote him to the next round.
Alejandro Aranda Bio - Age, Parents
The 24-year-old Alejandro Aranda successfully grabbed the attention of not only the judges but also the audience from his very first performance. The Pomona, California native sang two of his original songs in the audition round and made it to the next round.
See Also: Sophia Grace Wiki Unveils Everything From Age, Parents To Net Worth
The self-learned musician has not opened many facts about his early life, parents and family background. The only known fact about him is, Alejandro has been playing music for only four years now and has undoubtedly excelled the art already.
Moreover, the man worked as a dishwasher in Pomona and was the winner of the Artist of the Year Competition in 2017, jointly run by the California State University and Five of Five Entertainment.