Perdita Weeks has set her mark in Hollywood with her stunning portrayal in several series, out of which she is mostly known for her role in Magnum P.I. 
However, besides her professional accomplishments, she is also known for widespread rumors surrounding her personal life. 
But, Weeks is here to debunk all the rumors and clear the air regarding her relationship status. 
What Is The Rumor About?
Though Weeks often takes to her socials to share her work-related posts, she barely shares her personal life online. 
However, a few years back, Weeks became a topic of discussion when a false claim about her having a husband and twin children surfaced on the internet.
The rumor claimed that the actress married Kit Frederiksen on October 4, 2012, and she had twins, Rupert Sebastian Frederiksen and Humphrey Carrington Fredriksen. 
Several tabloids also reported the rumor as a true story. Not to mention, even the official page of IMDb reported the detail as genuine information. 
But, Weeks came forth to address the rumor herself and clear all the confusion bombarding the internet. Through a Twitter post of April 8, 2019, she said that the rumor was fake and wrote,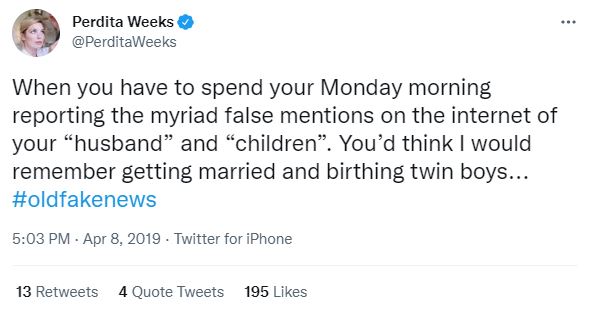 Perdita Weeks addressing the rumor regarding her husband and children (Source: Twitter)
Despite her addressing the rumor, the fake news still prevails on some sites on the internet. But, the actress is single currently and is seemingly busy with her upcoming series. 
Personal life of - Who Is Sonequa Martin-Green Husband? Married & Net Worth Info
Her Career In Hollywood
Weeks began her career in Hollywood in 1992 with her debut in Google-Eyes. After appearing in low-key TV films and series, she gradually made her way into more significant roles.
She portrayed Mary Boleyn in The Tudors with a recurring role in 2007. Later she appeared in series such as Lost in Austen, Lewis, Prowl, Flight of the Storks, The Great Fire, Rady Player One, etc.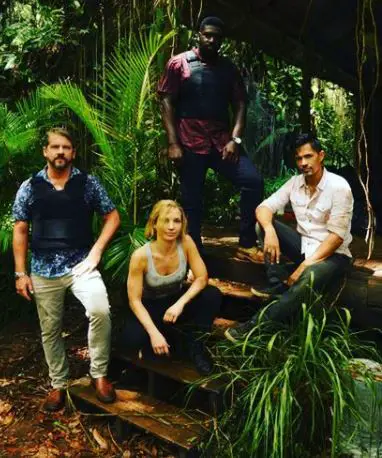 Perdita Weeks posing with her co-actors in Magnum P.I. (Source: Instagram)
It wasn't until 2018 that she landed a role, Juliet Higgins, in Magnum P.I., for which she is significantly recognized. 
Moreover, after the series, she played in Hawaii Five-0 in 2020 with the same role as in Magnum P.I. 
A Short Bio
Perdita Rose Weeks, aka Perdita Weeks, was born on December 25, 1985, in Cardiff, United Kingdom. The actress stands at the height of 5-feet-4-inches. 
Born to parents Susan and Robin, the British actress embraces Scottish and Irish.  
Further, Weeks is not the only TV star in her family as her sister Honeysuckle Weeks is an actress, and her brother Rollo Weeks is a former actor.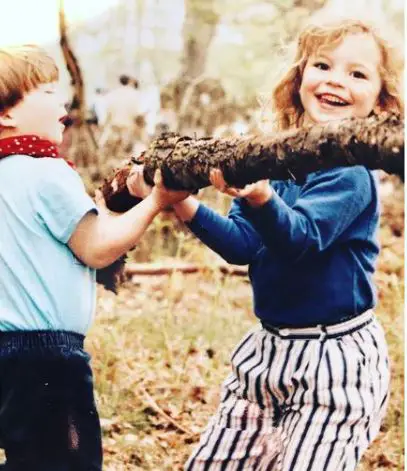 Perdita Weeks with her brother Rollo as a kid (Source: Instagram)
Honeysuckle is most known for her work in Foyle's War, while Rollo is best recognized for The Little Vampire. 
As for her recent update, Weeks appears on screens, continuing her role in Magnum P.I for the third season.