The famous YouTubers Patric Brown and Jennifer Flagg, a.k.a. Pat and Jen, decided to end their marriage. Giving a detailed explanation of why they chose that path, the pair appeared together on a video on their YouTube channel to discuss their divorce. 
Why Did They Divorce?
Pat and Jen tied the knot in 2015. But, after four years together, they surprised their fans with their breakup news. 
Spilling the tea on their divorce, the two uploaded a video on May 26, 2019.
However, the video might confuse the viewers, seeing the two talk about their breakup with all smiles. But, as they mentioned, they were past the sad phase of their divorce and had already moved on in their lives.
Going into the video, Pat said that they had been thinking about getting a divorce for almost a year but couldn't find the right time to make the decision. Agreeing with Pat, Jen also added that they were doing okay despite the divorce. 
Among several reasons for their split, the pair emphasized the primary reason to be their choice of having kids. Pat said he didn't want a child, while Jen, on the other hand, mentioned that having a child meant a lot to her.  
Caption- Pat And Jen discuss their breakup 
Moreover, they talked about how different they had grown from each other over the years, and the increased differences were also another one of the reasons for their divorce. Pat said, 
"We are much different people in life. Like there are so many different things we want to do in life that are completely differently different from each other. So, it made sense to us and just everyone in life deserves to be happy."   
To that, Jen added saying, 
"And I think, we also were scared, because, I mean, we've been together for so long and like I couldn't even think about what would be without you, you know. And, I think the fear of the unknown is so scary. But, we both deserve to be happy."
Pat, glancing into a small note he prepared with a list of points to discuss on the video, thanked his friends and the viewers for their support through their divorce phase.
Also, he gladly mentioned that both were still friends and parted with mutual understanding. He also added that they would continue making videos together for their channel despite their separation. 
Love life of - Gab Smolders & Her Boyfriend's Love Oozes All Over Social Media​​​​​​​
Post-Divorce Update
In the video, they also talked about their plans to date other people in the future and asked their fans not to be alarmed to see them with their new partners. 
Well, it turns out, both of them found their new partners and moved on shortly.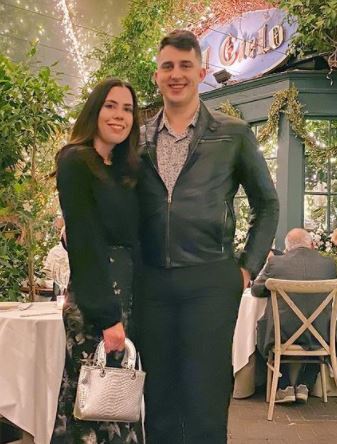 Jen with her new partner, Andy, at an Italian restaurant (Source: Instagram)
Jen is in a relationship with Andy, and the pair have been together for almost a year now. As both are very open about their love life, they frequently take to their socials to share their togetherness with their followers.
And judging their social media presence, the two seem very happy with each other.
More on - What Is Jacksepticeye Real Name? Girlfriend, Dating, Family, Net Worth
On the other hand, Pat's relationship with his new partner, Kvveen, has moved way ahead.
The pair got 'fake married' in Los Vegas. 
The YouTube star took to his YouTube channel on July 27, 2021, to share a video where he knelt to the ground and asked his girlfriend, with a snake-shaped ring on his hand, to 'fake marry' him.
Caption- Pat gets fake married to his girlfriend
They burst into laughter for few seconds, and both were on board with their crazy plan. But, as it was not a real wedding, Pat jokingly put the ring on her middle finger. 
All in all, Pat and Jan are still on good terms and are very happy in their respective relationships. And they continue to be partners for their YouTube channel.