Marcus Richardson and his wife, Abby Phillip, welcomed a new addition to their family on August 2021.
The new dad took to his Instagram on August 19 to share a glimpse of his baby daughter, while Abby had already posted her proud mother moment on her 'gram a day earlier.
Updating on the health of the little one, Abby added a caption to her picture with her daughter saying,
Marcus and I are so happy to announce that the Naomi Angelina Richardson arrived bright and early on Monday morning perfectly happy, healthy and ready to eat.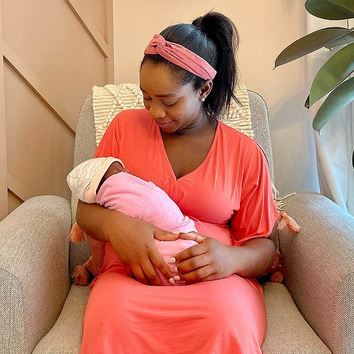 Marcus Richardson's wife, Abby Phillip, holding her newborn daughter (Source: Instagram)
Elaborating on why the pair chose the name Naomi Angelina for their daughter, Abby further wrote,
Her first name means "pleasant one" and she is already living up to it and spoiling her mom and dad as a blissfully calm baby. Her middle name Angelina is a tribute to my beloved maternal grandmother who passed away in 2014.
The couple is already in awe of their daughter, and they can not help but flaunt their little one through their respective socials.
Wedding Details
The parents of a newborn, Marcus and Abby's love story dates back to 2011.
They first encountered each other at a party their mutual friend hosted in Washington DC.
Although nothing much happened at the first encounter, the two began dating after they luckily got the chance to meet each other at a different party for the second time.
Five years into their relationship, Marcus popped the big question to Abby, asking her to marry him, and she was more than happy to say 'yes.'
The lovely pair eventually celebrated their holy union on May 26, 2018, at an intimate wedding event held at the historic building, Anderson House, in Washington DC.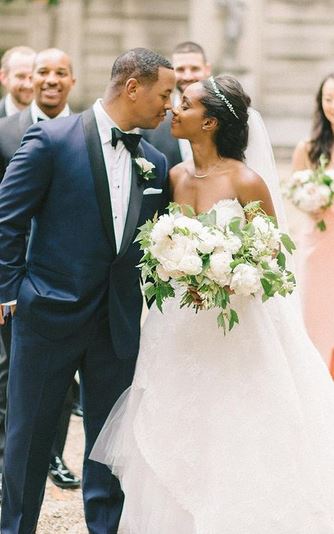 Marcus Richardson and his wife, Abby Phillips, from their wedding day (Source: Instagram)
Abby shared the beautiful memory from her wedding day through her Instagram, which professional photographer Liz Fogarty stunningly captured.
The beautiful bride was dressed in a strapless sweetheart neck white wedding gown paired with an elegant tiara and a long veil, while the groom looked sharp on his blue suit with a black bowtie.
The pair currently reside in Washington and often take their adorable family moments with their little daughter on their socials. 
Short Bio
Marcus, age 38, is a security personal who garnered attention as the spouse of the senior CNN correspondent Abby Phillip.
The Florida State University graduate who started his job as a desktop analyst at Howard University is now a managing consultant of nVisium.
Although Marcus' net worth or salary is under wraps, his wife's salary as a CNN journalist probably peaks over a hundred thousand dollars annually, which must have mustered her a hefty net worth throughout her career.