"I don't know if I will adopt or decide to be a father by other methods, but I am sure that this is my new destiny," says Jomari Goyso in his book Desnudo (Naked), which was published on 2018.
Jomari Goyso is an inspirational figure who is one of the most influential voices in fashion on Hispanic television. As a result, his fans are always curious about his dating life. Now, after reading the excerpt on his book the curiosity amongst his fan base has only increased.
A Brief Look into Jomari Goyso Dating Life
Jomari is a very well-loved and cared for personality, but his fans are still unsure of his relationship status or about his wife because the fashion icon likes to keep his private life a secret.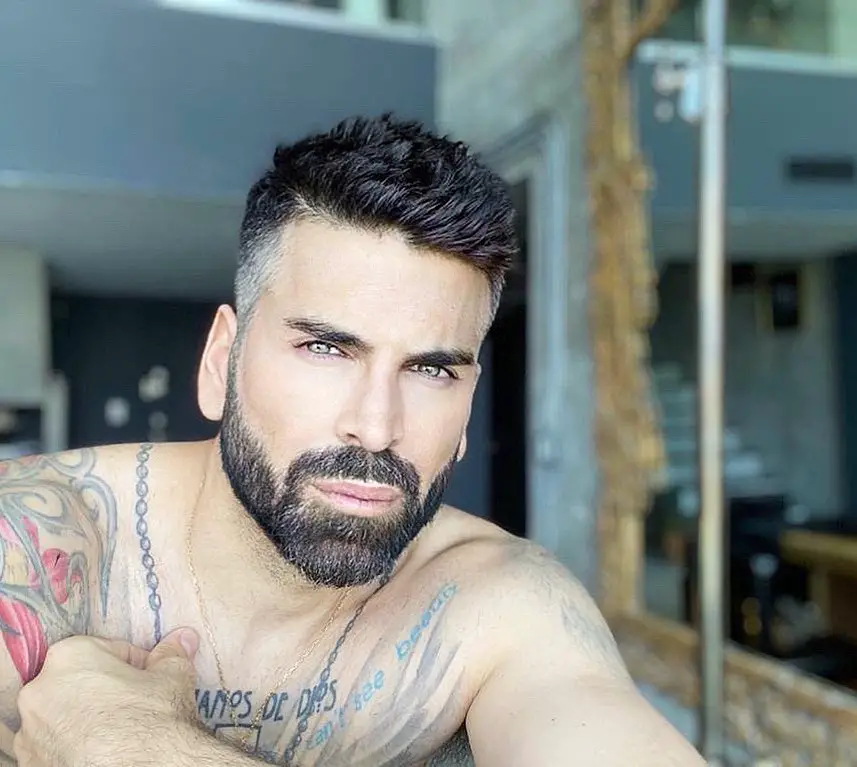 A Picture Of Jomari Goyso (Source: Instagram)
However, In a chapter of Naked, Goyso admitted that one of his most essential purposes in the personal sphere is to become a father soon. He said,
"I don't know if I will adopt or decide to be a father by other methods, but I am sure that this is my new destiny: To take care of a little person and give myself completely to that new love, without fear or reservation." 
Jomari always kept his personal experiences away from public life. However, in the book "Naked," he doesn't rule out the possibility of falling in love in the future, be it "with a man or woman, or both."
Currently, Jomari is single and waiting for his partner to fill his life with colors but the artist is usually busy spinning the wheels in his professional front.
Learn More: Naima Mora Married, Husband, Boyfriend, Net Worth, Instagram, 2017
Wiki On Jomari Goyso's Career
Jomari Goyso is an artist from La Rioja, Spain, who kicked off his career when the lead singer of the music group Alaska, Fangoria. Fangoria saw the raw talent Jomari had and made him their stylist.
Jomari has gained notoriety after working with stars such as Salma Hayek, Penelope Cruz, Celine Dion, and Kim Kardashian.
Not only that, his notable works have been featured on the cover of magazines like Vogue, Cosmopolitan, Vanity Hola, Marie Claire, as well as on high-profile award shows like the Academy Awards and the Golden Globes.
This multi-talented stylist who was born on October 11, 1981, in Spain has successfully achieved a distinguished career in television, becoming a household name for his work on Univision as the resident fashionista, known for his latest fashion and style segment, "El Gordo y La Flaca."
He earned himself a Daytime Emmy nomination for his segment on "Primer Impacto" called "Jomari Love."
Jomari has also put out his first book, "Desnudo" (translated as Naked), where he captured his experiences in words. The executive vice president of Enterprise Development, Univision Communication Inc., said,
"We are delighted to announce the launch of Jomari Goyso's first book, given the special connection he has with Univision's audience,"
The website EcuRed revealed that the fashionista tried to commit suicide several times during his childhood due to being overweight.
"I don't remember something nice, I don't remember anyone saying something nice to me, ever. Because there were things that kill you and I feel that for me being overweight was my addiction, that I see it as a way of saying 'I'm going to kill myself first before people kill me,"
Jomari sure is a role model for every fashion stylist enthusiast as he has proved himself in various big stages and made headlines in famous magazines. Moreover, he is currently leading a successful life accompanied by a hefty net worth. 
Keep Learning: Tan France Bio: Age, Birthday, Married, Husband, Gay, Ethnicity, Net Worth
Jomari's Net Worth
Being a fashion stylist is an excellent skill on its own that can earn you a comfortable amount of money.
Jomari being a worldwide known stylist sure earns a pretty good sum of amount. He is also a beauty expert and host for Univision.
Jomari's salary was $300,000 when he got the co-host position in Univisión after Rodner Figueroa was fired.
According to Wikipedia, IMDB, Forbes, and various other sources, Jomari's estimated net worth is $64 Million at 37 years old.
He is currently living in Miami, Florida, and usually makes appearances on various shows and events.