Jeremy Jauncey and Pia Wurtzbach's massive fan followers on their socials were quick to notice their budding romance even before the couple went public about it.
After getting their fans confused for a while with their dating-or-not situation, Jauncey and Pia appeared on Tatler magazine in June 2020, addressing their relationship rumors.
What's Their Story?
In the 2020 issue of Tatler, the couple made their relationship official. However, way before their confirmation, the couple had already become the talk of the town, appearing on several tabloid headlines for their rumored romance. 
Talking about the pictures that started the rumor, Jauncey said, 
"That photo taken in Hong Kong with me in the background of a fan shot and the shot of Pia in Indonesia wearing my Ray-Bans with her reflection seen in my stove are all part of our story now." 
Jauncey was grateful about how supportive and encouraging the fans were about his relationship with Pia from the start despite being oblivious of the whole story. 
Going into the beginning of their love story, Jauncey said he first met Pia in London. "She blew me away," he said. Something instantly clicked, and before they realized they were making dinner plans. 
"There was definitely an immediate spark. We couldn't stop talking. I found him to be such a warm person and I liked that he was always smiling," said Pia. 
Although they bonded in no time, they did not rush into making it exclusive as Pia had just parted from her former partner. Understanding her situation, Jauncey gave her the space she needed. 
"She set the parametres, and I happily accepted. It was a chance to show that I was serious about her and that I wanted to be a gentleman about it, which was very important to me," Jauncey explained.
Eventually, the pair let their relationship move onto the next level. To Pia, one of the attractive things about Juancey was his motivation and passion for his goals and vision.   
Reciprocating similar thoughts about Pia, Jauncey said she inspires him to achieve more. No wonder the two are a fitting match for each other. 
Since they came forth with their relationship, the Filipino Miss Universe and the Beautiful Destinations founder can't help but flaunt their love through their respective social handles.
Fans even speculate the two to be married, but there has been no news about the couple wanting to take their relationship to the next level.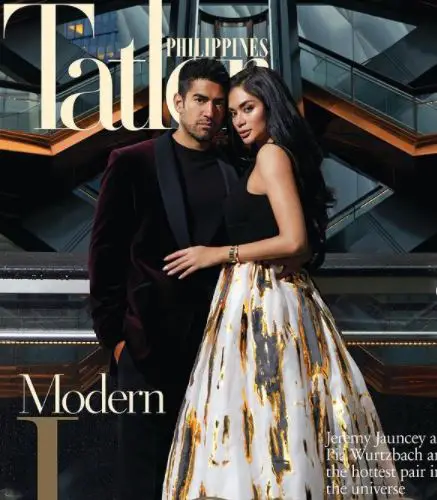 Jeremy Jauncey and Pia Wurtzbach on the cover of Tatler magazine (Source: Instagram)
Love life of - Is Rob Mayes In A Relationship? A Look Into His Love Life
Jauncey's Past Relationship
Pia is not the only Filipina who stole his heart. Before dating the Miss Universe, Jauncey was in a relationship with the half-Filipina Natalia Lalonde. 
Jauncey, who had known the fashion model through social media, met her in the Philippines. Having dated for some time, the couple soon ended their relationship and did not talk about their split.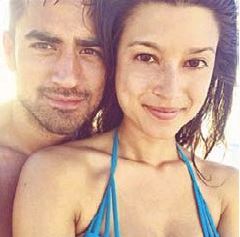 Jeremy Jauncey and his ex-girlfriend, Natilia Lalonde (Source: Pressreader)
A Short Bio
Born to Scottish and Colombian parents, the British nationality holder embraces a mixed ethnicity. 
The King's College London graduate kick-started his career as a managing director in 2005. Later on, he became the UK board member at Entrepreneur's Organization.
While his tenure at the organization, he founded his venture, Beautiful Destinations, in 2012. As of 2021, his award-winning venture, which focuses on positively impacting climate through travel, has amassed over 20 million followers on Instagram alone.
Besides, his growing social media influence has also led him to become an ambassador of Panerai. Thus, at the age of 37, the entrepreneur has successfully established his name amongst aspiring business personalities.
With such prominence in business globally, it wouldn't be surprising to assume the business tycoon's net worth to be in millions.