Ed Calderon is a non-permissive environment specialist and writer who has served the Mexican-American border as a police officer for over a decade. 
During his tenure at the border, Calderon has handled cases ranging from fighting against coyotes, cartels, kidnappers to solving organized crime. As a result of his brilliance in his field of work, Calderon has become one of the sought-after counter-custody specialists.
Ed Calderon's Initial Years  
The 39-year-old was born and raised in Tijuana, Mexico. After receiving his military card he was drafted into a newly formed police organization that generally emphasized the operations on the Mexican border. 
During the service, he had the opportunity to receive special training in anti-terrorism, counter-abduction, urban operation, and close protection.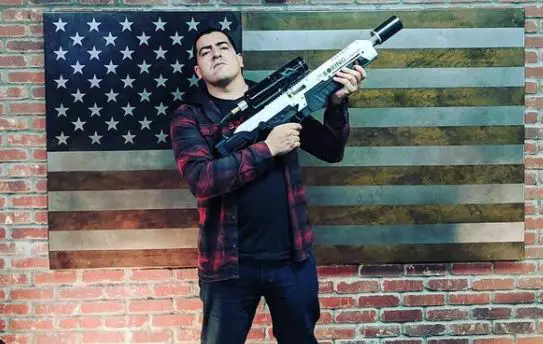 Ed Calderon posing with a gun in his hands (Source: Instagram)
Wanting to learn more, Calderon undertook few courses on SERE type training in the US. This type of training taught him to deal with a non-permissive environment.
Further, his passion for learning more and more led him to train in dangerous terrains, and he never stopped his learning process.
He also has adequate knowledge in a wide range of combat styles such as Thai Boxing, Libre Fighting System, traditional Japanese martial arts, and knife work. 
Over the decade of his service in the military, Calderon has directly worked in the field of public safety, organized crime investigation, and counter-narcotics.
His Career Accomplishments 
Calderon's rigorous study in Mexican criminal culture has led him to become a prominent trainer and researcher in personal security. 
Given his expertise, he has had the opportunity to share his knowledge with the members of the Navy SEALS, FBI, BORTAC, Indonesian Kopaska, and other intelligent service agents in Mexico and the US.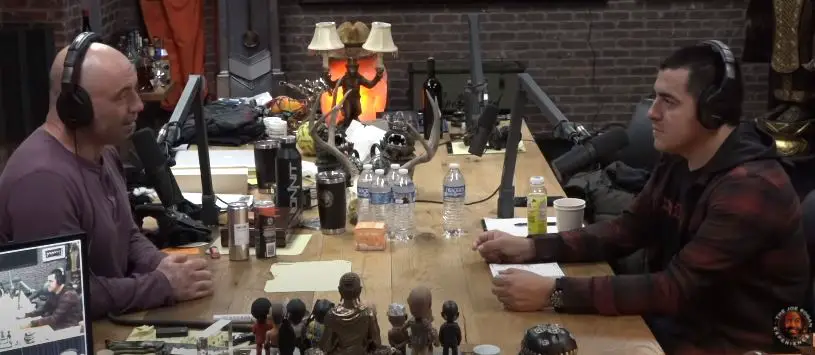 Ed Calderon on Joe Rogan podcast (Source: YouTube)
Sharing his experience and knowledge, he has also been on the famous Joe Rogan podcast twice and once in The Jordan Harbinger Show.
Interestingly, it is also rumored that the 2015 film Sicario has a character, Alejandro Gillick, based on the real-life of Ed Calderon.
The assumption might have come to light as the movie character, potrayed as a Mexican prosecutor, and Calderon has a lot in common. But, nothing confirming the rumor has surfaced yet. 
You may want to know about - What Is Donut Operator's Relationship Status? Did He Break Up With His Girlfriend?
What Is He Up to Now?
Calderon, retired military personnel, is currently involved in teaching the skills and knowledge that he gathered through his years of work experience. 
He travels North America conducting private training and seminars in anti-bombing, weapons work, anti-abduction, unarmed combat, and escapology. 
Furthermore, Caldero has collaborated with Ernest Emerson to manufacture a self-tailored combat knife that has already been sold out, but the new batch will be launched soon.