Fans favorite couple Chris Quilala and his wife are no more together. After several months of separation, Chris took to his Instagram to clear the air about his divorce.  
Chris Quilala's Divorce   
Chris Quilala and Alyssa Gulino have known each other since they were young. They first met in a church in Pasadena. 
At the time, Quilala was at the age of twenty-five, while Alyssa was only seventeen. After few years of dating, the pair strengthened their bond, sharing vows in 2013. However, the marriage came to an end in 2019. 
Both of them took to their social handles to share about their divorce. Although they tried to keep their divorce away from public attention, the news circulated rapidly and soon became the topic of discussion for many. 
Frustrated with people passing their judgments over the divorce, Alyssa spoke out about the issue through her Instagram post on February 19, 2020. Expressing her disappointment, she wrote, 
"I'm getting really tired of people debating my life in comments of pictures of my children. You see what I let you see. Social media is an image, it's not a full reality. You want more information but I won't supply it. I can't trust followers with the depths of any part of my life…"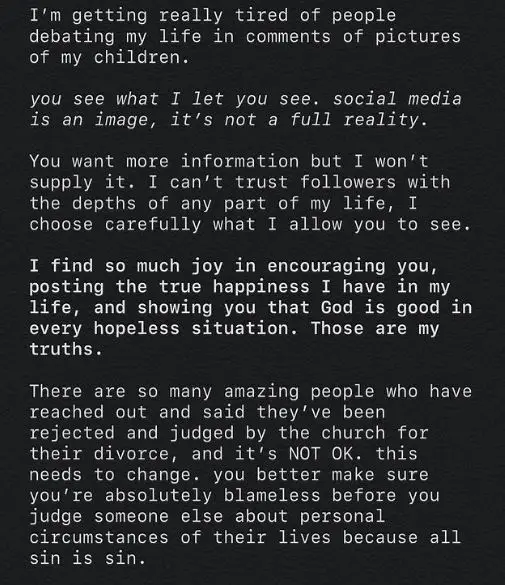 Alyssa talking about her divorce (Source- Instagram) 
Personal life of - Rachel Larson's Social Media Screams Family Goals
As Alyssa had already made it clear through her post that she wouldn't give away any of her personal details, nothing regarding their divorce has surfaced yet. 
On the other hand, Quilala returned from his break from social media and shared his opinions regarding the divorce. 
He mentioned that his family was going through a difficult time because of the divorce, and he needed a break from social media to recollect his life.
Writing about the divorce, he also mentioned that the decision was made without his support and that he would have tried to save his marriage if he had the power. 
"Though I did not choose divorce, I am pressing into growth of areas in my life that contributed in the unhealth of my marriage. And yet in the midst of it all, I've encountered again and again the faithfulness of God and experienced him walking closely with me." 
Chris And Alyssa's Children
Although their marriage has ended, their children will forever keep them bonded in some ways. 
The pair share five children together, Ella, Aria, Jethro, Liv, and Maddex.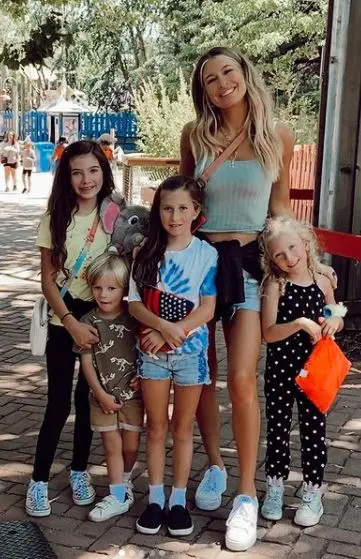 Chris Quilala's ex-wife, Alyssa Gulino, with her kids (Source: Instagram)
Unfortunately, they had to face a tremendous loss when their son, Jethro, passed away in 2014 during his infancy. 
In memory of their lost child, the couple even wrote a song named Miracle. Though he might not be present physically, the pair never miss celebrating his birthday each year and share it through their socials. 
As of 2021, their eldest daughter, Ella, is a sixth-grader, Aria is a third-grader, Liv is a kindergartener, while the youngest, Maddex, hasn't enrolled in a school yet. 
More on - Canadian Singer Jann Arden Bio Reveals Sexuality, Dating, Height
What Is Chris Quilala's Net Worth?
Quilala has been in making music actively since 2006. His music generally falls under contemporary worship music and Christian pop. 
With several featured albums under his belt, he released his first solo album, Split the Sky, in 2016 under record labels Jesus Culture and Sparrow Records. 
Besides, he has received several recognitions and awards for his music, including a Grammy nomination in 2018. Moreover, the musician has probably garnered a hefty net worth of six figures or more with his prominence in the music industry.