Zozibini Tunzi is a South African model who has been recently crowned Miss Universe 2019. Along with her pageant works, she is also actively involved in raising social awareness and encouraging people. 
As a passionate activist, she is engaged in the fight against gender violence and has participated in gender-related campaigns. 
Additionally, she also encourages natural beauty through her social media and other ways.
Zozibini Tunzi's Wiki-Like Bio
Zozibini Tunzi was born in Tosolo, Eastern Cape. She grew up in the village of Sidwadweni with her three sisters and parents. 
Zozibini was raised in a complete academic environment.
Her father, Lungisa Tunzi, works at the Department of Higher Education and Training in Pretoria. Her mother, Philiswa Tunzi, works as a school Principal at Bangweni JSS located in Bolotwa, a small village in Eastern Cape.
Since her parents are involved in the academic sector, education was the top priority. She credits her parents for providing quality education at some of the best schools in her hometown. 
You May Like: Nikki Fried Wiki: What's Her Married Status? Family, Salary
Additionally, Zozibini takes her parents as role models since her mother has taught her about the importance of being kind, humble and helpful to the people whereas her father has taught her about the need for education, hard work, and discipline.
She is also thankful to them for the support and encouragement which led her to achieve her goals. 
Similarly, she adores her three sisters: 3-year-old Yanga, 24-year-old Sibabalwe, and 13-year-old Ayakha.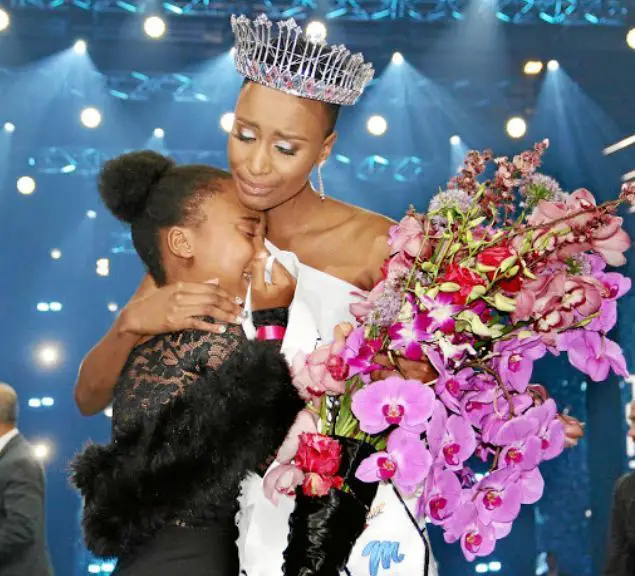 Zozibini Tunzi with her sister Ayakha (Photo: Sowetan Live)
Talking about her formal education, Zozibini attended Cape Peninsula University of Technology in Cape Town and graduated with a bachelor's degree in Public Relations and Image Management in 2018. 
Age
Zozibini Tunzi is 26 years old as of 2019. 
Miss Universe 2019
Zozibini Tunzi began her pageantry career in 2015 when she was crowned Miss Mamelodi Sundowns 2015. 
Two years later, during her college years, she competed for Miss South Africa 2017 after she was selected as part of the top 26 for Miss South Africa 2017. However that year, she was only able to meet semi-finals. 
Then on 10th June 2019, she sent an application for Miss South Africa 2019. She competed with her natural beauty and talent and was crowned Miss South Africa 2019 on Women's Day on 9th August 2019 at Sun Arena in Pretoria. 
Along with her win, she gained R1-million in cash and R2-million worth of sponsorships and prizes including the use of a luxury Sandton apartment and a Mercedes-Benz cabriolet until her reign as Miss SA. 
See Also: Alaina Meyer [Johnny Galecki's Girlfriend] Baby, Engagement Ring, Age
Her pageantry race didn't end there and she went to compete at the Miss Universe 2019 representing her nation and its people.
There, Zozibini became an iconic person featuring her natural beauty and fight for gender-related violence among the women from ninety countries and territories. 
Finally, she made it and was crowned Miss Universe 2019 at an event held at Tyler Perry Studios in Atlanta on 8th December 2019. 
Married Or Dating?
As of now, Zozibini Tunzi is single.