Zak George is a popular name when it comes to "Dog Training." He has changed the stereotypes of dog training through his simple ideas to condition their capabilities.
Moreover, he believes that training a dog is an increased bonding rather than a task, which is a clear example of his rational love for them. Thus, coming to this date, Zak has become a star figure in the field of dog training.
The initial inspiration of Zak towards his bond with dogs was from his older brother's relationship with his dog, Levi, a white German Shephard. Zak developed a very close bonding with Levi and learned every way possible to nurture his limits, which was a lifeline to Zak's increased connection with dogs.
Later, Zak started a dog training center which apparently heightened the waiting list number within a month.
However, Zak was utterly frustrated with the high pace of work in such a less time. So, he thought of an idea to reach a broader audience within less time and began his own YouTube channel, Zak George's Dog Training Revolution. Later, he was offered the CBBC Series, Who Let the Dogs Out? which further rose him to the heights of popularity.
His long range of experiences in training dogs also got a written form after the man co-wrote the book, Zak George's Dog Training Revolution: The Complete Guide to Raising the Perfect Pet with Love alongside journalist Dina Roth Port, in 2016.
See Also: Dave Salmoni Married, Wife, Girlfriend, Baby, Net Worth
As of now, Zak already has more than 1.8 million subscribers on his YouTube channel and has also gained some really good reviews on his book. He has been continuously working in the field of dog training and has developed many new ideas in training them.
Hence, there is no doubt on the fact that Zak has garnered an incredible amount of net worth through all fo his work in the field.
Zak George Girlfriend, Wife
Zak got married to his long-time girlfriend, Bree Justine on 7 December 2018. Zak and Bree got engaged in early October of the same year before getting married. 
Zak's wife is the Co-executive producer of the Dog Training Revolution. She appears in many YouTube videos alongside Zak in his channel, Zak George's Dog Training Revolution. 
Zak and his wife have been together with each for nearly a decade. The two are seen as one of the happiest, positive, and adventurous couples on YouTube.
Their bond is evident in their social media accounts where they keep posting the pictures of their adventures with their whole family, along with their dog.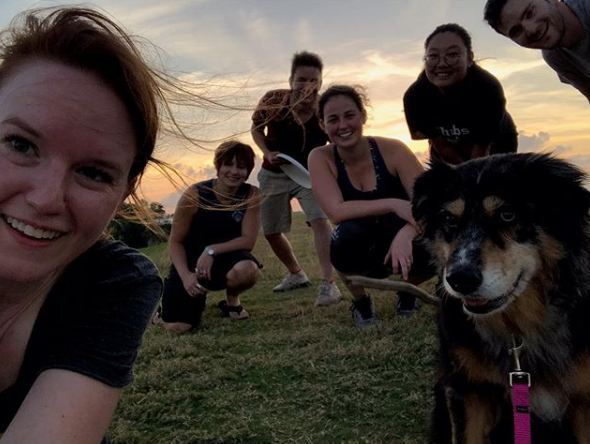 Zak George, his wife Justine & their mates pose with their dog Indy on 23 May 2019 (Photo: Bree Justine's Instagram)
It is probably their unconditional love for dogs that has connected Zak and Bree intrinsically. Hopefully, the couple remains the same for their lifetime and together, set an example of unconditional love. 
Bio: Age, Family
Born on 3 December 1978, the famous television personality, Zak George is 40 years of age. The Atlanta, Georgia native has been one of the most influential personalities on television and social media. 
Don't Miss: Amberley Lobo Bio, Boyfriend, Parents
Although Zak has been very open to his followers about his present life, he has never revealed much about his family background.
However, from some of his social media posts, it can be assured that Zak is very close to his parents and spends a lot of time with them even in the present. 
One of the unknown facts about him is, Zak also appeared in many shows on Animal Planet.