YouTube is the biggest platform these days and being a YouTuber is deemed as a career in the 21st century. WolfieRaps chose to be a YouTuber and has marked his name as a considerable YouTuber with over seven million subscribers.
WolfieRaps and his girlfriend are known for posting each other's photos and videos on vlogs, pranks on various social media. But this time the both the YouTuber's have taken the internet by storm after their recent breakup!
WolfieRaps' Bio With Real Name And Parents
WolfieRaps was born in 1993 in Ottawa, Canada and celebrates his birthday on 15 June. His real name is Charles Reynor and was raised in Canada. Charles stands tall with the height of 6 feet and 5 inches. 
You May Like: Lesly Brown Bio, Age, Married, Husband, Divorce, Affair, Parents, Ethnicity
His father, Chris Reynor is an orthopedic surgeon and his mother Mandy a Fitness industry worker. Wolfie has an older brother named Zach, who is a lead singer in a band called The Lionyls, and a little sister named Quintessa, who is a dancer and an upcoming rapper.
Wolfie often invites his parents in his videos including his brother and sister. But, Zack prefers not to talk much in Wolfie's videos. 
He graduated from Carleton University, Ottawa, Ontario with a degree in Business Marketing. When he was in high school, he started making videos for fun on YouTube with various channels such as Thosechoobz, TheSquids, DemHoodNiggs, and CeeRayzTV.
Later in the year 2013, he created a channel WolfieRaps and started posting videos of popular song's cover. His first cover song was Drake's remix of Migos's Versace, which slowly made him an internet sensation.
Wolfie, age 24, has gained a lot of popularity and fan following, accumulating an estimated net worth of $1.4 million with just his YouTube videos.
WolfieRaps Keeps His Love Life Behind The Cameras
WolfieRaps is known to date Sylvia Gani. Sylvia is a YouTube star just like Faryal Makhdoom star who earns 360k dollars annually. 
Don't Miss: Isaac Carew, Dua Lipa's Boyfriend Wiki, Age, Model, Religion, Height, Facts
Since both of them were openly dating, they included each other on their vlogs. Wolfie is seen to be supportive towards his girlfriend as he even attended her graduation ceremony which was speculated on his Instagram on 10 June 2016.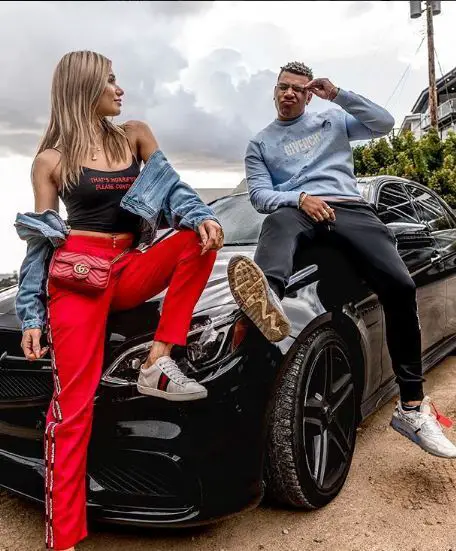 WolfieRaps poses with his girlfriend Sylvia Gani and his dream car on 1 March 2018 (Photo: WolfieRaps' Instagram)
Furthermore, he also uploaded a picture on Instagram on 1 March 2018 stating he is truly grateful for having his girl, Sylvia in his life.
The couple is notably mischevious and pranks each other with a breakup drama. Wolfie posts these video on his YouTube channel once which left all his fans in shock.
However, recently Wolfie talked about their breakup which this times seems pretty much serious as both the stars are inactive on social media. 
Since the reasons for their breakup is not stated in public, a lot of rumors are have been heard in the Tinseltown. There is a huge rumor that Wolfie was cheating on his girlfriend with a 16 years old teen, but it is yet to be confirmed.
Wolfie has not defended himself, but his fellow YouTubers like Allisa Violet and RiceGum claim that they did not know about Wolfie cheating.
Related: James Charles Gay, Boyfriend, Parents, Brother, Height
Well, the rumor came to an end when Wolfie made an announcement on Twitter regarding his relationship with girlfriend Sylvia on 8 June 2018.
Wolfie said that he used to post everything in public previously, but now he chooses to make his personal life behind the limelight. He also stated that both of them are handling the situation offline. Because of the rising rumors, Wolfie also added not to believe everything his fans hear.
Not only Wolfie but his girl Sylvia also made a similar post on the same day.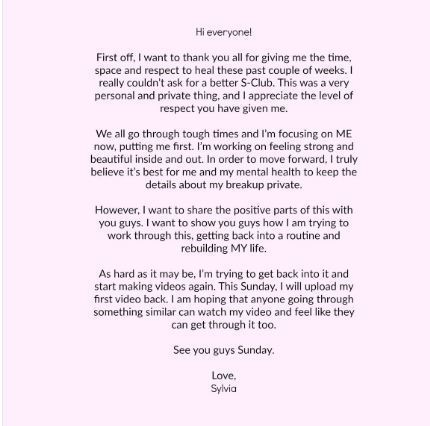 WolfieRaps' ex-girlfriend Sylvia Gani posts on Twitter regarding her inactivity on social media on 8 June 2018 (Photo: Sylvia Gani's Twitter)
As Wolfie has not deleted his old picture with Sylvia yet, it is quite clear that the duo is still on good terms. Whatever might be the reason for the split, the couple might bring up a better solution to their love life in the near future.