Wanda Hutchins is an interior home designer, but that is not what makes her famous in the media industry. She is more popular for her relationship with former American footballer, Michael Strahan. 
Even though Wanda's relationship with Michael Strahan ended a long time ago, she still managed to stay in the limelight because she shared an integral part of his life.
So, how did Wanda Hutchins manage her family life after the disastrous divorce?
Wanda Hutchins Married Life with Husband, Michael Strahan
Wanda Hutchins found love for the first time when she met American football defender Michael Strahan. It was later disclosed that the duo had their first encounter when they were very young- Wanda was 12 and Michael was 14 in an American school in Germany. However, they did not reveal whether their love blossomed from the first meeting itself or if fate brought them together later. 
Wanda and Michael, very much in love, welcomed their first child, Tanita in 1992. Just after ten weeks of welcoming Tanita into the family, they tied knots and commenced their married life. 
You May Also Know: Michael Strahan Married Life: Divorce, Wife, Girlfriend and Kids
But, when it finally came down to her husband's rising success, the marriage started to go downhill as Michael was gaining a considerable amount of publicity. Nevertheless, the couple did not give up on the marriage. Wanda became pregnant again and gave birth to her second child, Michael Strahan Jr. on 12 September 1994.
Even after sharing the responsibility of two children, Wanda and her husband could not sort out their differences and filed for a divorce in 1996. 
After the divorce, Wanda and her ex-husband Michael were given joint custody of the children, but Michael seldom visited them, so it would not be wrong to say that Wanda raised the children as a single mother.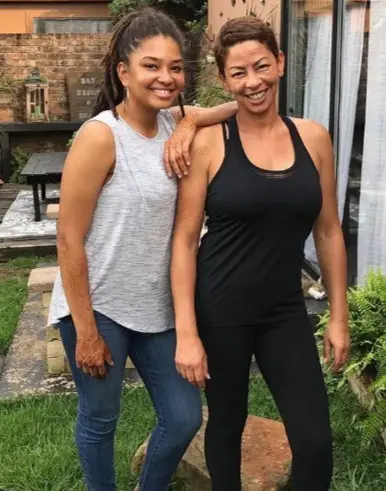 Wanda Hutchin's daughter Tanita Strahan wishes her on her birthday on 6 June 2017 (Photo: Tanita Strahan's Instagram)
Also, the divorce was rough to the couple, but Wanda claimed that they were just young and barely ready to handle the responsibility. Michael, however, claimed that Wanda was not the correct woman as she cheated on him and did him wrong.
Soon after the divorce, Michael started dating other women. His relationship with Jean Muggli, a cosmetic store manager, led to their wedding in 1999 and gave birth to two twin girls, Isabella and Sophia. However, the couple soon divorced in 2006 because of internal conflicts.
Michael and his family said that his second wife Jean was a "wicked" woman and she had wished death upon Michael's children from the first marriage. Even Wanda herself had a say in this, and she said that Jean did not allow Michael to meet Michael Jr. and Tanita. 
Michael's claims have completely changed, and he says that he was too young to understand that Wanda was a wonderful woman, but they were not compatible. He also says that he never fell out of love with Wanda and still respects her.
Now, Michael spends a lot of time with his children, whom he considers the source of his inspiration. His children from both marriages are friends with each other and share an inexplicable bond.
You May Like: Veronica De La Cruz Husband, Boyfriend, Married, Ethnicity, Bio, Height
For now, Wanda has yet to reveal information about her love life after parting ways with Michael. It is unknown if she is looking for a new man into her life or not!
Wanda's Wiki-Like Bio, Age
Wanda Hutchins celebrates her birthday every year on 6 June. She is very secretive and has not revealed any information about her birthplace, family, and ethnicity in her bio. Because of this reason, it is impossible to determine her age.
However, her parents are occasionally interviewed about Wanda's first wedding and its demise, so the interviews give insight into Wanda's family. She is the daughter of Renate Hutchins and is very close to her mother. 
Wanda is active on social media and continually posts pictures, but since most of her posts are work-related, the information about her parents cannot be determined from her accounts. However, her mother is very supportive of her so it can be inferred that they share a strong mother-daughter relationship.
Her posts reveal a lot of pictures of cats and dogs though, which proves that Wanda is an animal lover and shares a special bond with them.
Wanda Hutchins' Net Worth
Wanda Hutchins might be the ex-wife of a star, but that does not conceal the fact that she has a career of her own. Her wiki reveals that she works as an interior designer/ decorator and is the owner of Wandaful Home Designs.
Her ex-husband Michael Strahan, on the other hand, earns a decent amount and has the net worth of $65 million. There is no doubt that Wanda enjoys a fraction of Michael's net worth, which has added to her net worth as well.