There are several reasons to which someone is dragged to the media gossips and spotlights.
For Vilailuck Teigen, it was mostly because of her 'live-in-together' situation with her famous supermodel daughter, Chrissy Teigen, and American singer-songwriter son-in-law, John Legend, at their $14 million worth Beverly Hills mansion.
She is a constant support in her daughter's life. The reason behind her California stay with her daughter's family is to help Chrissy and her music legend husband with their adorable kids, Luna and Miles, since the couple travels so much for work and events.
Vilailuck Teigen's Married Life With Husband & Kids
Vilailuck is a little bit of everything. She has become a constant fixture in the lives of the hottest couple in the showbiz town, Chrissy and John, not to mention her dedicated role as a grandparent to her grandkids.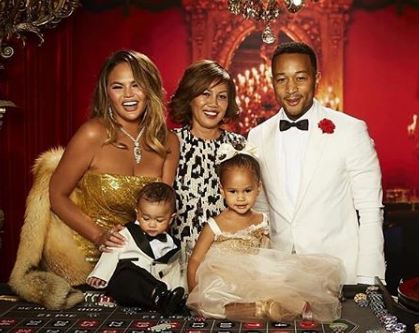 Vilailuck Teigen enjoying her time together with daughter, Chrissy Teigen, son-in-law, John Legend and their adorable kids, baby girl Luna and little Miles on John Legend's birthday on 15 January 2019 (Vilailuck Teigen's Instagram)
Besides being quite a cook herself, she helps Chrissy test new recipes for her cookbook. It is evident that the glamor and wit-mixed Chrissy gets her looks from not only her mother but also some fabulous cooking skills.
Vilailuck's living arrangement with her celeb-daughter has surely turned her into a minor celebrity.
However, her husband, Ron Teigen, who is of Norwegian and German descent, remains more of an enigma. He lives just around the corner from his daughter's house and is a regular visitor in the family.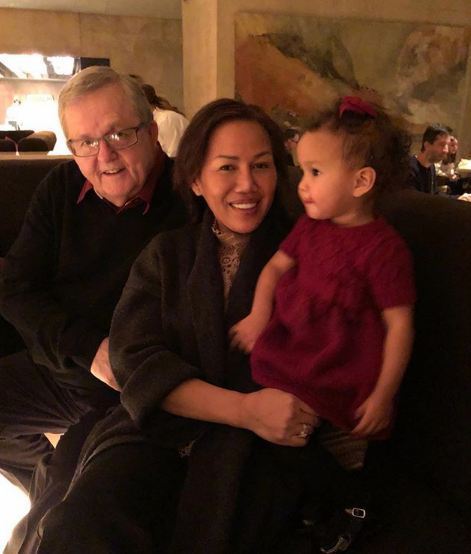 Vilailuck Teigen, her husband, Ron Teigen, and their granddaughter, Luna, wish everyone a "Merry Christmas" on 25 December 2017 (Photo: Vilailuck Teigen's Instagram)
When Chrissy was asked about her parents, she confirmed that her folks were still married, and they shared a good bonding.
From the marriage, Vilailuck and Ron are blessed with two daughters, Chrissy and Tina. The family still remains tightly-knitted even after their girls having their own households and kids.
Although Vilailuck kept her married life private, they were often spotted with their daughter Chrissy and her children on her social media account 
Chrissy often posted a picture where Vilailuck and Ron were seen enjoying their quality times with their grandchildren. 
While their fans were hoping to know more about Vilailuck's married life with Ron, the news about their divorce surfaced the internet. 
On 5th November, her husband filed for divorce. It also came to know that before the news of divorce, Vilailuck and her husband lived apart as she lived with her daughter Chrissy and her husband, John Legend, to help care for their two children. 
Another thing is known from her daughter Chrissy is that Vilailuck soon to be ex-husband Ron lived 10 minutes away from her Beverly Hills mansion, and almost every day he drops by her house. 
However, the divorce decision is between Vilailuck and Ron, and hopefully, both of them remains friend even after ending husband and wife relationship. 
Vilailuck Teigen's Bio: Age, Nationality
Vilailuck Teigen celebrates her birthday on 12 December. Nevertheless, she has yet to reveal her date of birth.
Her ethnicity roots back to Thailand. In October 2018, the originally a Thailand citizen earned a perfect score on her citizenship test. Hence, Vilailuck now holds an American nationality.
Her parents' good names and more details to her early life is yet to be revealed.
The mother of two grown-up beauties looks forever young and elegant.
More About: Freema Agyeman Husband, Dating, Parents
Although her age remains veiled as of now, there is no doubt that she follows a healthy lifestyle that most include a fantastic fitness routine.
Her Net Worth
Vilailuck not only appears on Chrissy Teigen's Instagram but she has also made her television debut, appearing alongside her daughter in a Smirnoff commercial.
She is a big fan of social media, especially the filters on snapshots. She handles her accounts well and goes by the name, 'pepperthai2,' where she often posts behind-the-scenes moments of her family.
The name 'pepperthai2' is to show her love for hot and spicy food.
Vilailuck sure knows how to make things easy for her children and family. She shows constant support in Chrissy's endeavors who reportedly carries a net worth of $26 million. 
No one but Vilailuck understands that an event wouldn't be as successful without her being there to cheer and hoot on her beautiful daughter who stands to a height of 5 feet and 7 inches (1.70 meters).