American animator Todd Waterman has contributed in animating movies like Mulan, The Swan Princess, and Anastasia. However, it is not just these contributions that he is renowned for. He is most popularly known for his unhealthy relationship with a popular star.
Todd Waterman Relationship With Kris Jenner
Todd Waterman is mostly known for his torrid relationship with non-other than Kris Jenner of Keeping Up With The Kardashians. In the 1980s, Kris Jenner was married to her then-lawyer husband, Robert Kardashian. She had three children with Robert, who were young back then: Kourtney, Kimberly, and Khloe Kardashian.
Todd revealed in an interview that he was very attracted by Kris when he saw her picture at a mutual friend's home. They met for the first time in a bar and consummated their love at her friend's in Beverly Hills.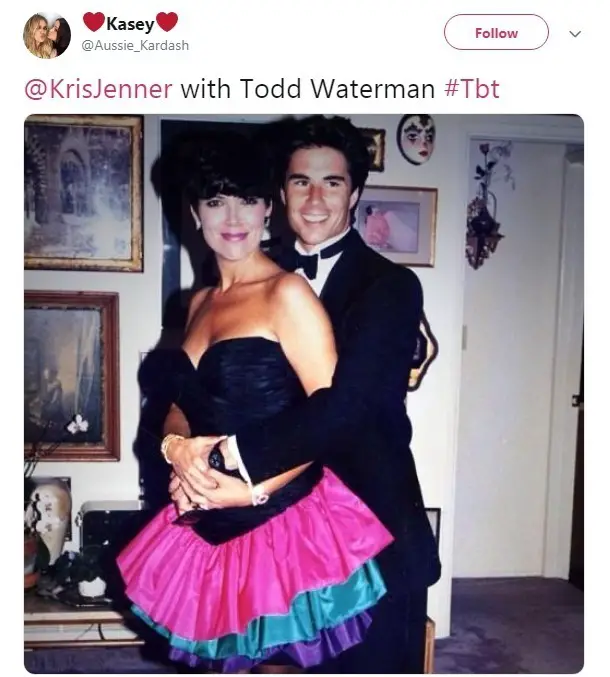 Fan posts a picture of Todd Waterman and Kris Jenner from 1980s (Photo: Kasey's Twitter)
The unhealthy relationship went on for quite a time. Once, Kris even invited Todd along with his soccer player friend Justin Fashanu to her home. Kris and Todd, along with Robert and Justin, played a friendly tennis match that day. Seeing Todd and Kris so close to each other ignited a doubt in Robert's mind, and he started suspecting them of their affair.
Learn More: Jeffrey Lichtman Is Married, Meet His Wife | Salary, Net Worth, Age
The issue of the affair was so intense that Robert hired private detectives to track Kris's movements. In fact, Robert himself followed Todd and Kris and attacked the jeep they were on. It is said that Robert's friend O.J Simpson, famous actor, also threatened Todd to stay away from Kris.
Finally, because Kris was unable to let go of Todd, her husband Robert Kardashian filed for a divorce. Kris then moved in with Todd, but soon moved out when Todd was found cheating on her with another woman. In Todd's defense, he said that he was just twenty-three years of age, and did not know what he wanted in life.
Kris then started dating Caitlyn (then Bruce), but in an interview, Todd revealed that they were still sleeping together then.
Kris Jenner had not revealed the identity of Todd in her book, Kris Jenner… And All Things Kardashian. In the book, she mentioned having an affair with a footballer named Ryan and described their sex as "passionate." However, when the identity of "Ryan" was revealed, Todd was paid about $12,000 to $15,000 for his appearance in Keeping Up With The Kardashians. Now, Todd Waterman has signed a contract that hinders him from talking about Kris and their relationship in public.
His Net Worth, Real Estate
Before working as an animator, Todd was a soccer player who played for the Los Angeles Heat. After working as an animator, his notable works include Mulan, The Swan Princess, and Anastasia. He has yet to reach the height of his career, and his exact net worth is not disclosed. However, his salary is expected to be around $51K per year.
Read Also: Tanner Drayton Wiki, Age, Noah Cyrus, Facts
Even though Todd's net worth is not disclosed, he shared Kris's hefty net worth for a while. Kris Jenner sold a luxurious mansion of 11000 square feet at a price of $2.15 million through real state broker, Ginger Glass in 2018.
Todd Waterman Short Wiki, Birthday
Todd Waterman celebrates his birthday on the new year according to his wiki. Born in 1965 in Oakland, CA, he is now 38 years old. There is no personal information about his relationship with his friends or family, except that he is quite close to the professional soccer player Justin Fashanu.